Description
metal building materials for interior wall decoration
Aluminum panel curtain wall adopts high quality and high strength aluminum alloy panel, its common thickness is 1.5, 2.0, 2.5, 3.0MM, model is 3003, state is H24.
Its structure is mainly composed of embedded sheet, panel, stiffener and corner code. Embedded sheet through bolt and structure connection force, Angle code can be directly by the panel bending, stamping molding, also can be in the small edge of the panel riveting Angle code molding.
The reinforcement bar is connected with the welding screw (the screw is directly welded on the back of the panel), so that it becomes a firm whole, greatly enhancing the strength and rigidity of the aluminum panel curtain wall, ensuring the smoothness and wind resistance and earthquake resistance in long-term use.
If you need sound insulation, high efficiency sound insulation materials can be installed inside the aluminum panel.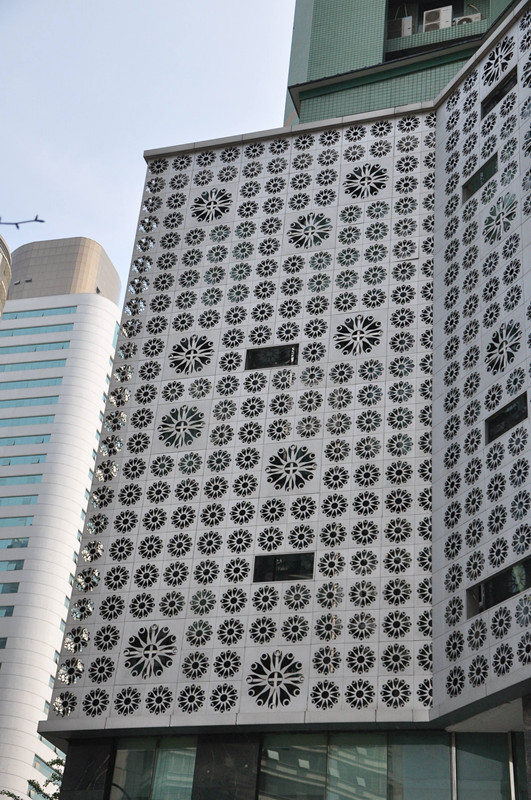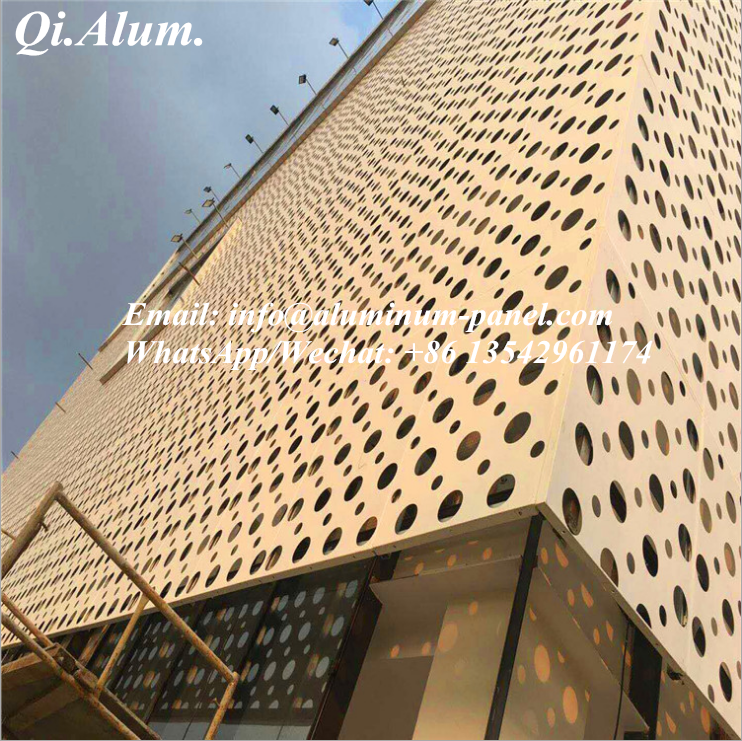 structure
Aluminum panel is divided into two kinds from the specification: the thickness of the following 1.2mm aluminum panel is called aluminum buckle sheet (also called aluminum square sheet), the thickness of more than 1.5mm aluminum panel is called aluminum panel (also called aluminum curtain wall)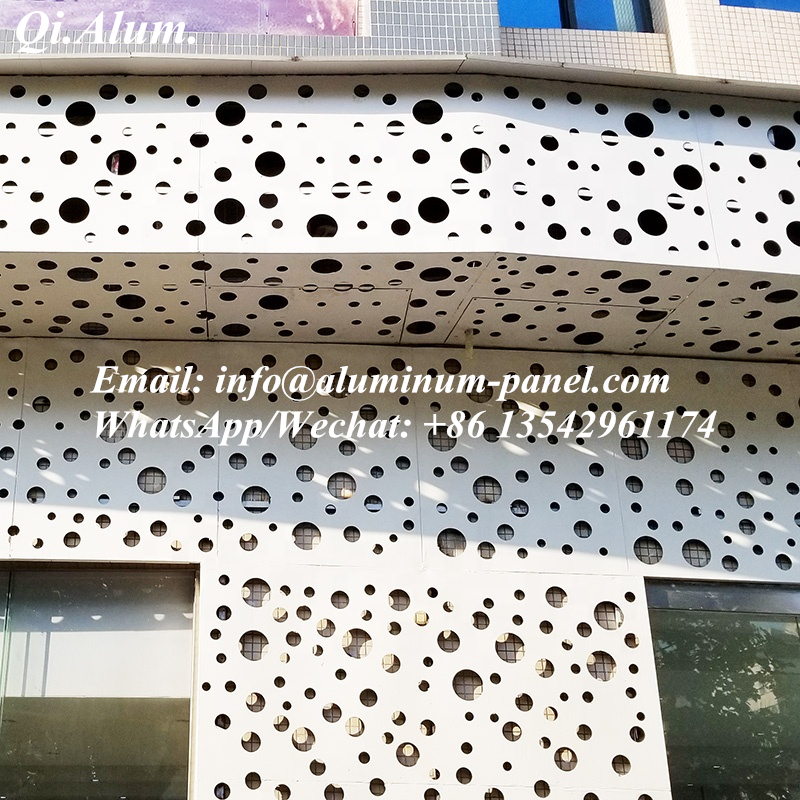 Surface treatment
The surface of aluminum curtain wall is generally treated with fluorocarbon spraying after chromation. Fluorocarbon paint topcoat and varnish polyvinylidene fluoride resin (KANAR500). Generally divided into two coated, three coated or four coated. Fluorocarbon coating has excellent corrosion resistance and weather resistance, acid rain resistance, salt fog and a variety of air pollutants, excellent cold and heat resistance, can resist strong ultraviolet radiation, can maintain long-term colorless, not powdering, long service life.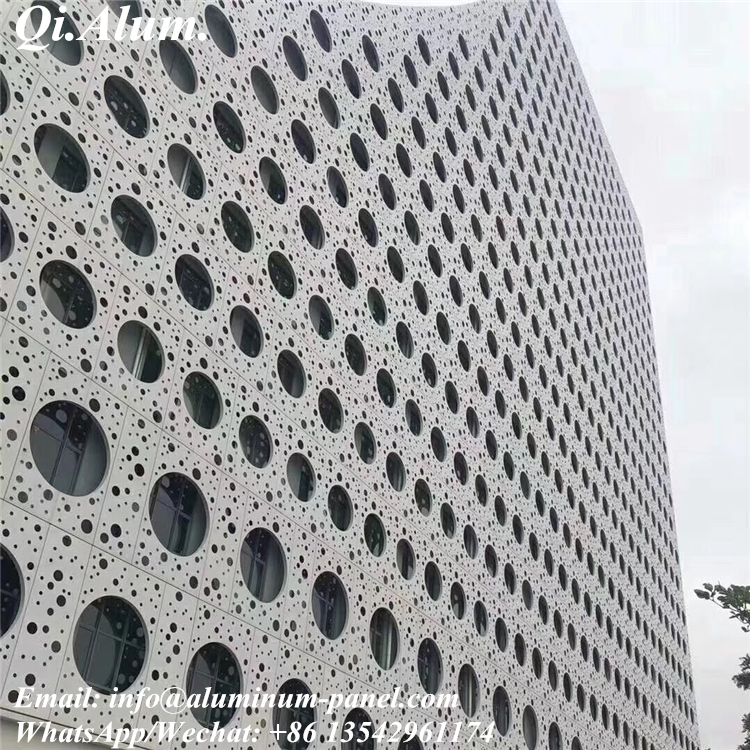 Feature editing broadcast
1. Aluminum curtain wall has good rigidity, light weight and high strength. Aluminum veneer screen wall panel has good corrosion resistance, fluorocarbon paint can be up to 25 years without fading.
2. Aluminum curtain wall technology is good. The aluminum panel can be machined into various complex geometric shapes such as plane, arc and sphere.
3. Aluminum curtain wall is not easy to stain, easy to clean and maintain. Fluorine coating film non-adhesion, so that the surface is difficult to adhere to pollutants, more good cleaning.
4. Convenient installation and construction of aluminum curtain wall. Aluminum panel in the factory forming, the construction site does not need to cut only simple fixed.
5. Aluminum curtain wall can be recycled and reused, which is favorable for environmental protection. Aluminum panel can be 100% recycled, recycling value is higher.
Aluminum curtain wall has unique texture, rich color and lasting, and can be diversified in appearance shape, and can be perfectly combined with glass curtain wall material and stone curtain wall material. Its perfect appearance, excellent quality, so that it is favored by owners, its light weight, only one-fifth of marble, is one-third of the glass curtain wall, greatly reduce the load of the building structure and foundation, and low maintenance cost, high performance price ratio.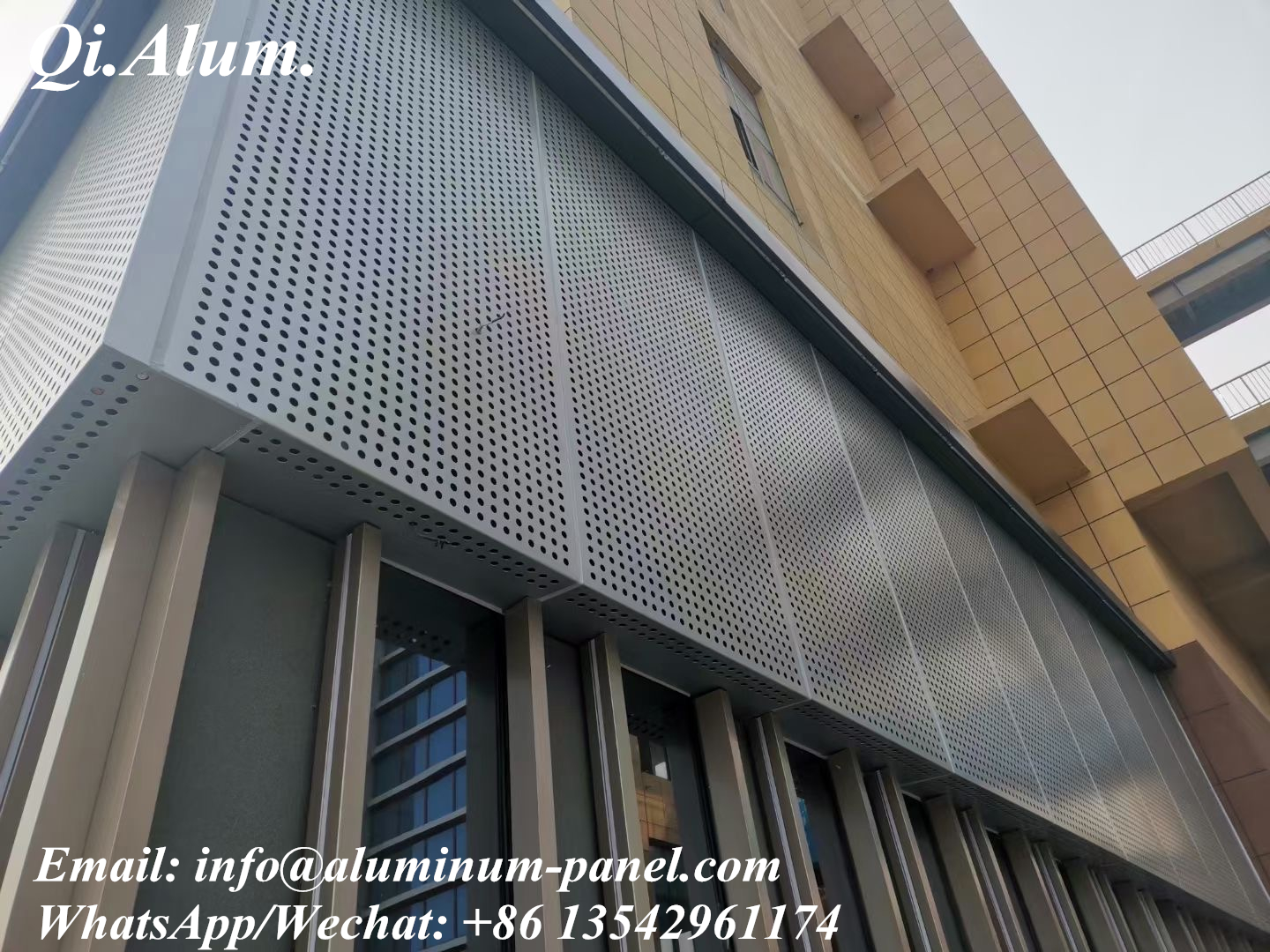 About us
Foshan Qi Aluminum Decorative Materials Co.,Ltd, more than 12 years experience ,We are manufacturer of fabricating aluminum perforated sheets , aluminum solid panels, aluminum screen,aluminum facade decorative sheets, aluminum expanded mesh, aluminum ceiling with good quality and fast delivery for more than 10 years to export countries. Our factory production line includes 14 CNC carving/cutting machines, 8 mould punching machines with 120 sets moulds for hole punching, 9 CNC bending machines as well as accessories assembly machines. We have two coating lines with powder coating, and PVDF coating with working 24*7 hours, cooperating with Jotun, PPG, Akzon brands . We had done projects in Dubai, Qatar, Bahrain, Kuwait, Tajikistan, Tanzania, Maritius, Singapore, Malaysia, Australia, Canada, America and so on. Our monthly supplying is about 80000 sqms for inside and outside market. Our projects covers five star hotel, high end villas, school, campus, metro station, airport, office building, shopping mall and some other goverment projects. We can provide design ,fabrication and installation one stop service for your projects. High precision, quality guarantee, affordable price , globla delivery and considerate service is our basis. We accept OEM/ODM business. We are the experienced specialist on facade solution decoration!!!