Description
Aluminum Panel Facade Customized Aluminum Perforated Panel Metal Wall
Specificatoin for the pic-perforated panel:
Material
Aluminum alloy 1100、3003、5052
Thickness
0.5mm,0.8mm,1.0mm,1.5mm,2.0mm,2.5mm,3.0mm,3.5mm,4.0mm.,

5.0mm,8mm,10mm,20mm,25mm

Normal size
1220*2440mm
Maximum size
1600x7000mm
Surface treatment
Anodized, powder coated or PVDF spraying,electro plate or simple left to patina
Shape
Picture perforation images are scalable,notches and bespoke sheet panel
Perforation pattern
Rounded perforation,diagonal holes,round perforation straight line holes,square perforation straight line,square perforation staggered,slotted perforated ect.,any size of perforation that you can image
It can be hollowed according to your sample or CAD drawing. It can also be folded, curved according to request.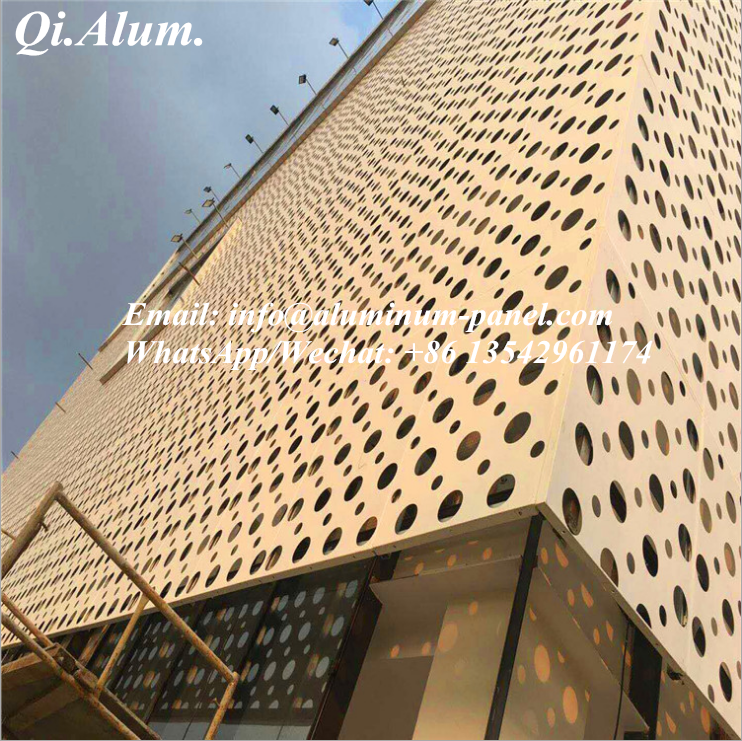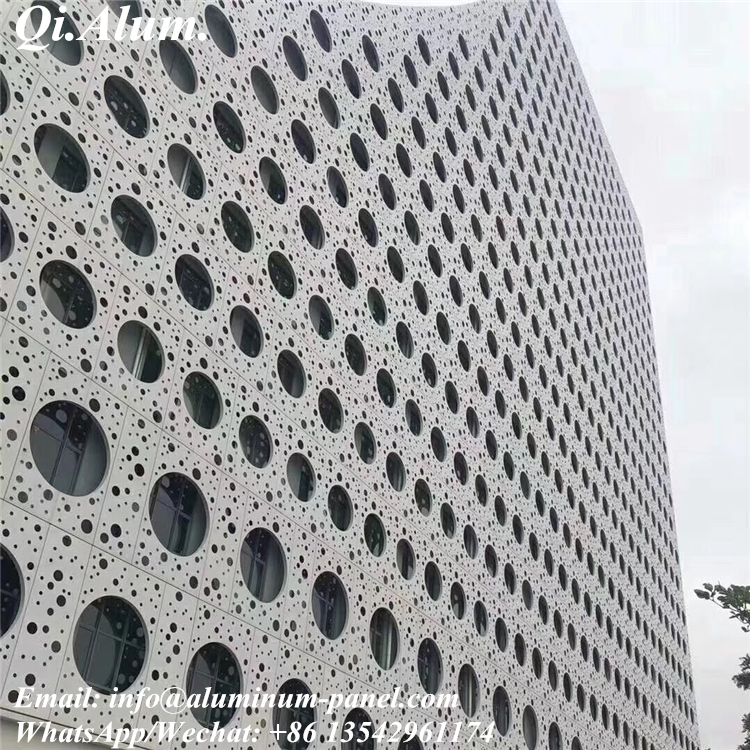 Product features:
1. With advanced production technology and equipment, it has become a new generation of personalized and artistic mainstream products.
2, diversified styles, patterns can be customized according to the style, to show personalized.
3, the surface of the three-dimensional sense of strong, anti-static dust and easy to clean.
4, simple installation, easy installation and disassembly, convenient maintenance.
5, environmentally friendly, completely fireproof. High standard recyclable, green environmental protection hotel with aluminum panel carved 15mm carved aluminum panel wall villa with aluminum panel carved background wall club with continuous carved board billboard product description: hollow carved aluminum panel (art carved aluminum panel) requirements standard; Aluminum panel with thickness less than 2.0mm shall not be used for exterior wall decoration. After carving out the processing of aluminum panel, has the characteristics of ventilation, than ordinary curtain wall aluminum panel is affected by the wind, if the thickness is insufficient, there will be deformation phenomenon, affect the overall beauty, it is recommended that the outdoor use of carved out the thickness of aluminum panel control in 2.5mm or more. Cinema with aluminum panel carving partition meeting room with carved aluminum panel girder villa with aluminum panel carving background wall club with continuous carved board billboard application: building curtain wall, column beam, balcony, partition wrapping, outdoor decoration, advertising signs, vehicles, furniture, booth, instrument shell, subway shipping tools, etc.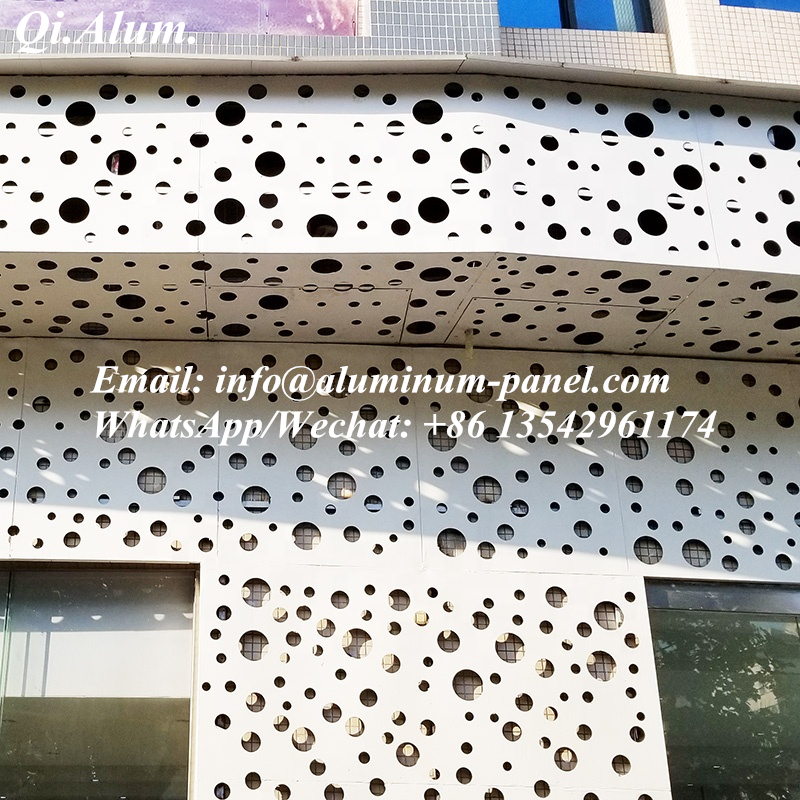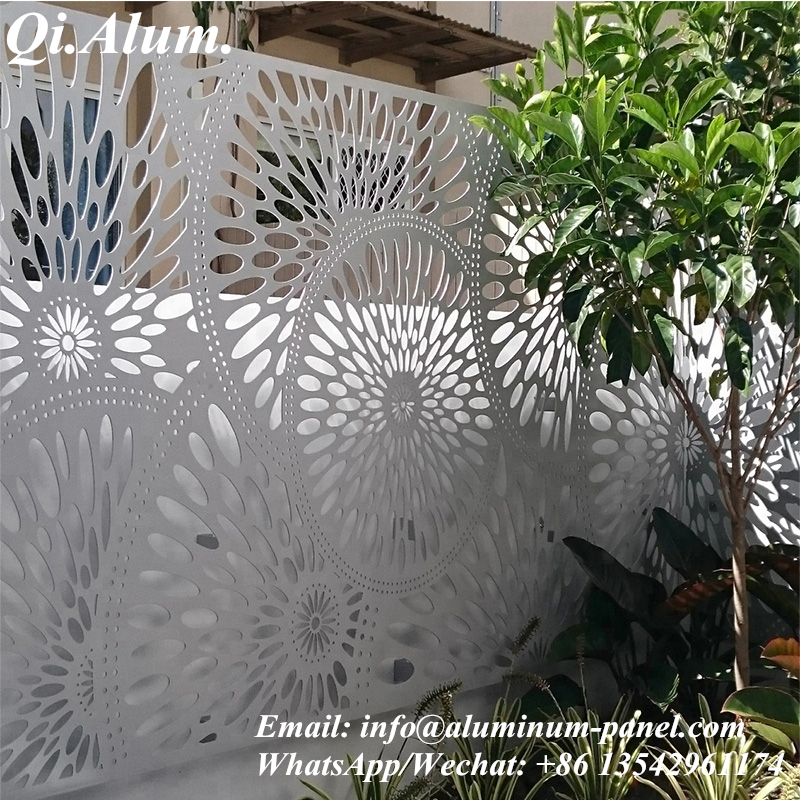 Aluminum perforated metal panel allows any image to be amazingly reproduced on perforated metal plate. It can add persistent image facades to new and existing structures, providing a unique metallic texture. Create eye-catching overlay logos, company logos, special features — even use picture piercings as the aesthetic basis for your entire design concept.
Aluminum perforations can be made to any size and can also produce a 3D effect. Made from perforated metal, picture perforations also act as a sunscreen and provide ventilation, as well as lasting and easy to reset.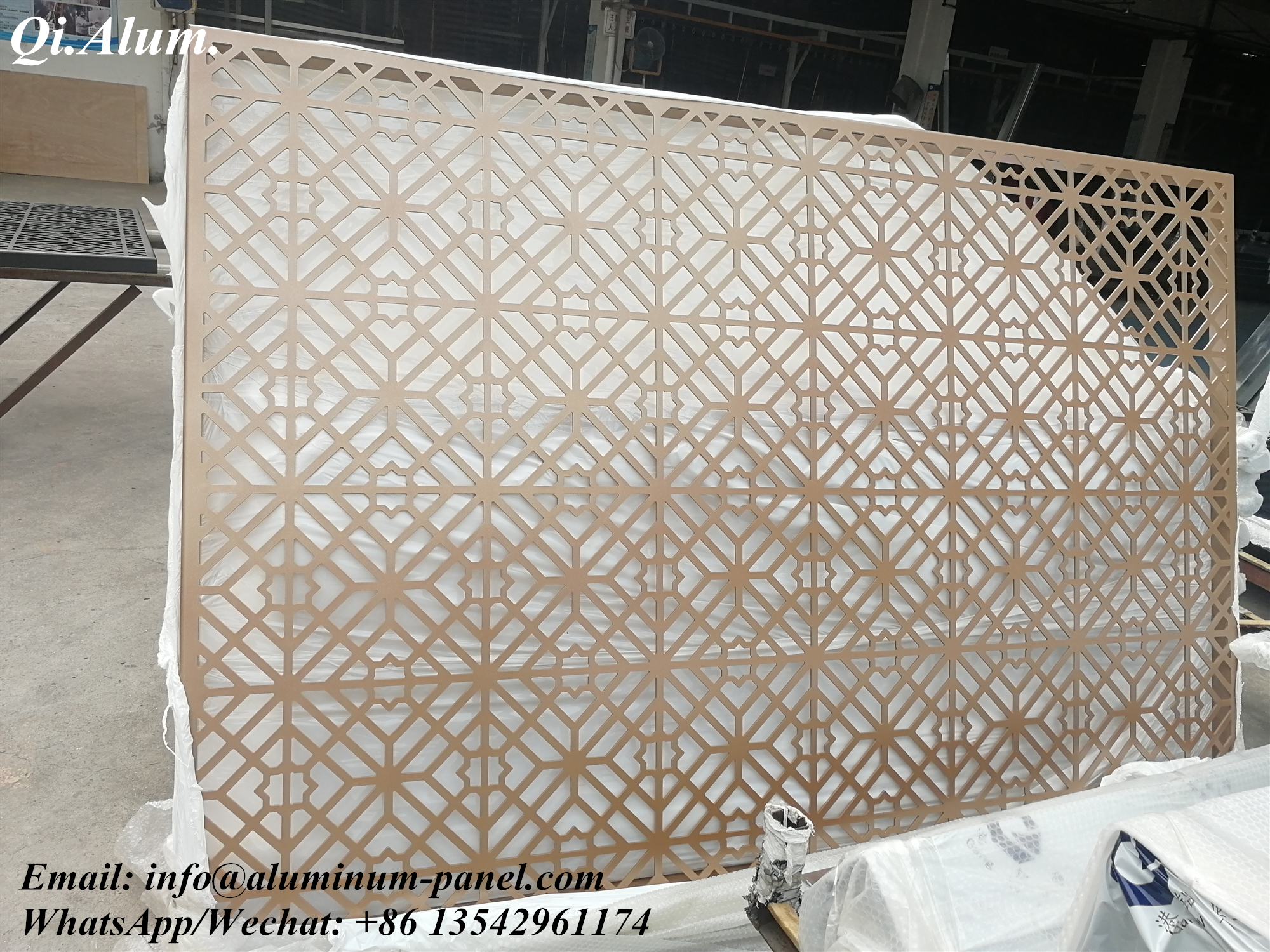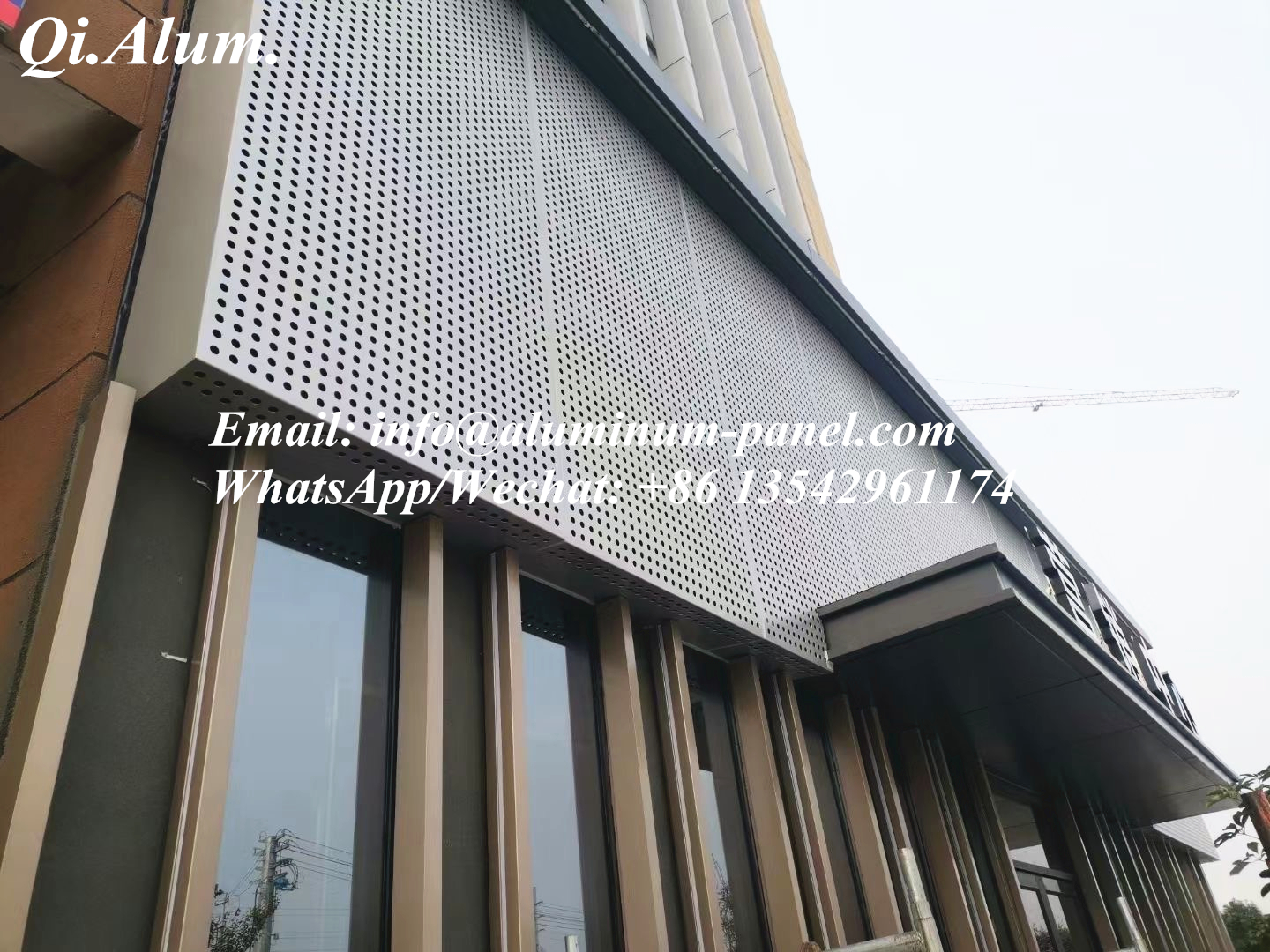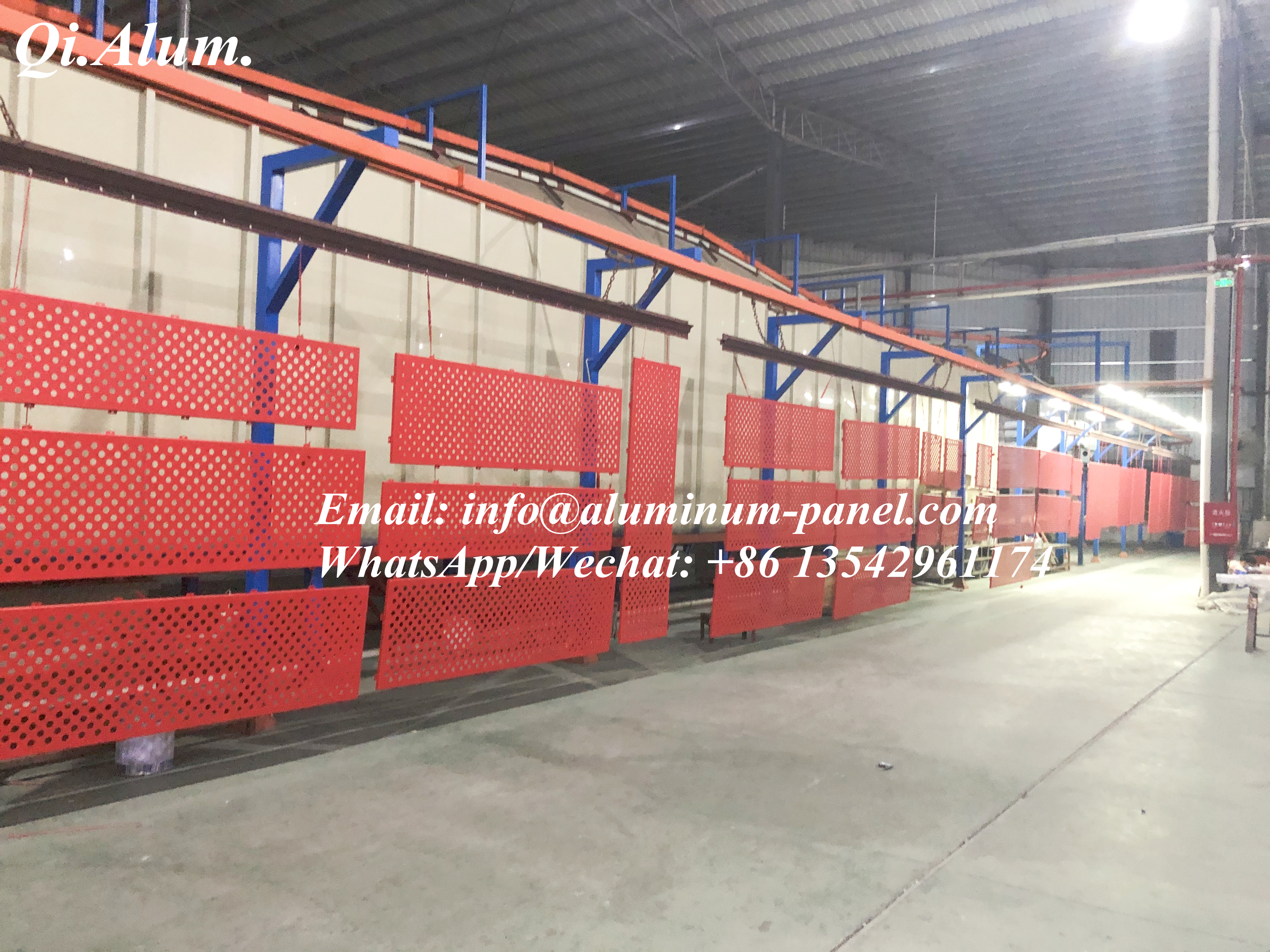 About us
Foshan Qi Aluminum Decorative Materials Co.,Ltd, more than 12 years experience ,We are manufacturer of fabricating aluminum perforated sheets , aluminum solid panels, aluminum screen,aluminum facade decorative sheets, aluminum expanded mesh, aluminum ceiling with good quality and fast delivery for more than 10 years to export countries. Our factory production line includes 14 CNC carving/cutting machines, 8 mould punching machines with 120 sets moulds for hole punching, 9 CNC bending machines as well as accessories assembly machines. We have two coating lines with powder coating, and PVDF coating with working 24*7 hours, cooperating with Jotun, PPG, Akzon brands . We had done projects in Dubai, Qatar, Bahrain, Kuwait, Tajikistan, Tanzania, Maritius, Singapore, Malaysia, Australia, Canada, America and so on. Our monthly supplying is about 80000 sqms for inside and outside market. Our projects covers five star hotel, high end villas, school, campus, metro station, airport, office building, shopping mall and some other goverment projects. We can provide design ,fabrication and installation one stop service for your projects. High precision, quality guarantee, affordable price , globla delivery and considerate service is our basis. We accept OEM/ODM business. We are the experienced specialist on facade solution decoration!!!