Description
50mm diameter aluminum perforated sheets
Curtain wall punching aluminum panel is made of high-quality high-strength aluminum alloy panel, which is one of the necessary decorative materials selected by the public.
Because of its high cost performance, harmless human body, very environmental protection, energy saving, transportation process cost is relatively low, so in summary, the utility of curtain wall punching aluminum panel is very good.
With different colors and shapes of punching holes, will create a unique atmosphere, but also enhance the sense of hierarchy and modern architecture. Punching panel generally uses high quality 1100, 3003, 5005 single layer aluminum alloy panel as the base material.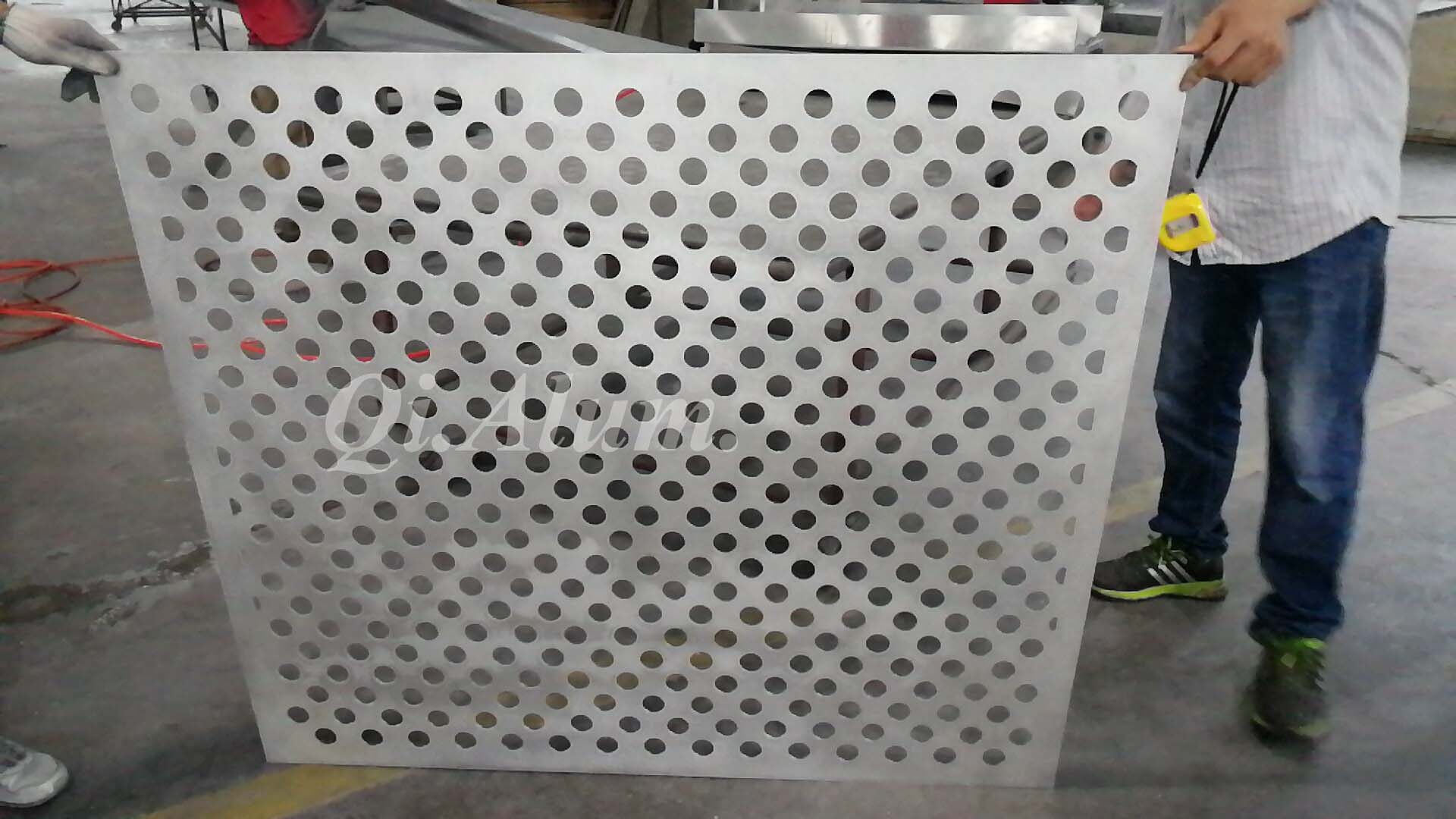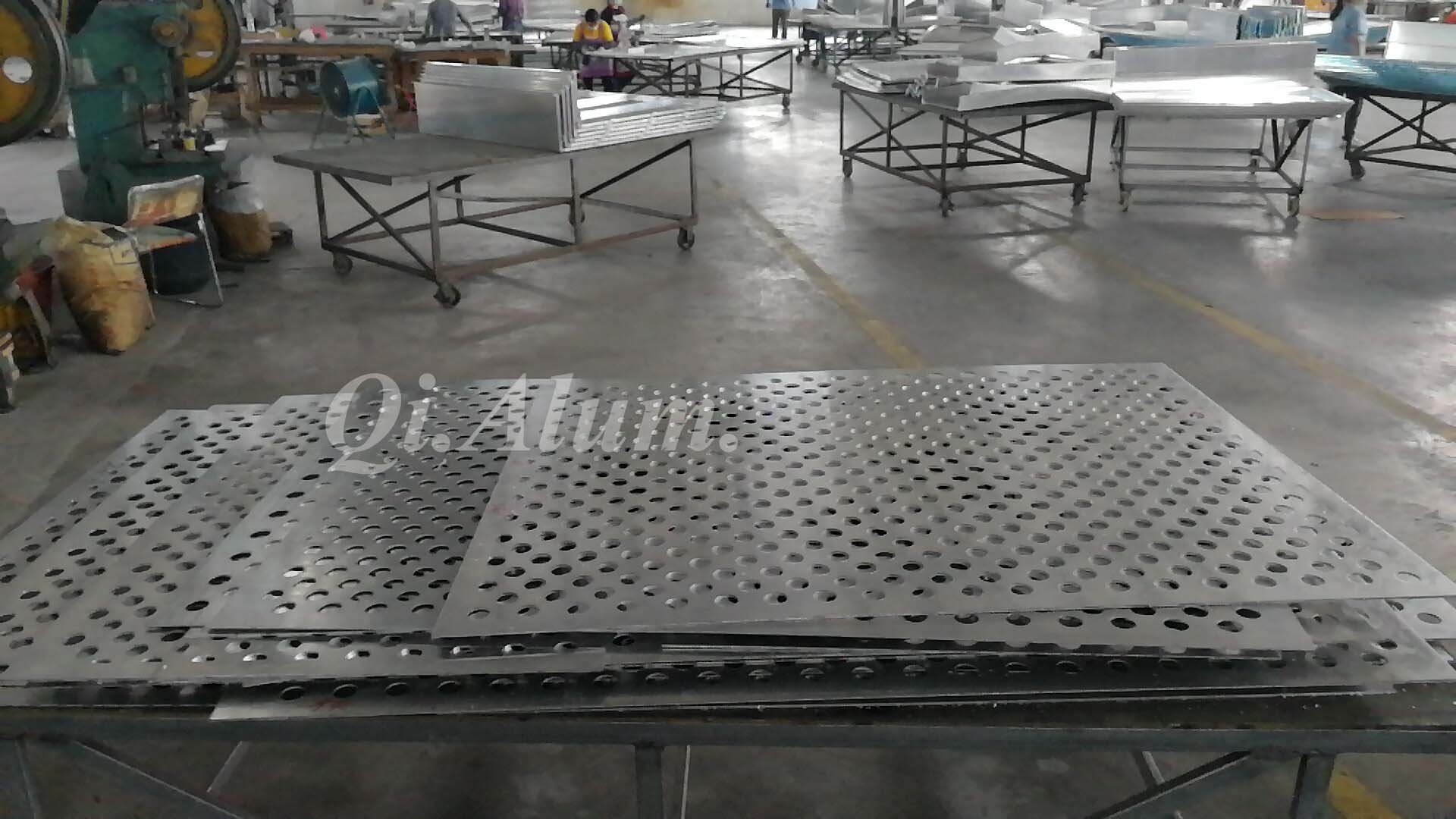 Perforated curtain wall aluminum panel surface treatment:
Surface coating is divided into fluorocarbon spraying, powder spraying, polyester paint spraying. The coating properties of aluminum sheet surface are strictly in accordance with customer requirements, and the company can provide standard color cards for customers to choose. Punching aluminum panel product thickness mainstream 1.5mm, 2.0mm, 2.5mm, 3.0mm, 4.0mm and other specifications, forming aluminum panel large size up to 1500x4000mm. The structure of single layer aluminum alloy curtain wall panel is mainly composed of panel, stiffener, hanging ear and other components. Processed fluorocarbon coating panel 01 structure from top to bottom: protective film layer, fluorocarbon resin PVDF system (three coating from top to bottom respectively for varnish, finish, primer), pretreatment layer, aluminum panel layer, pretreatment layer, back coating (double-sided spraying).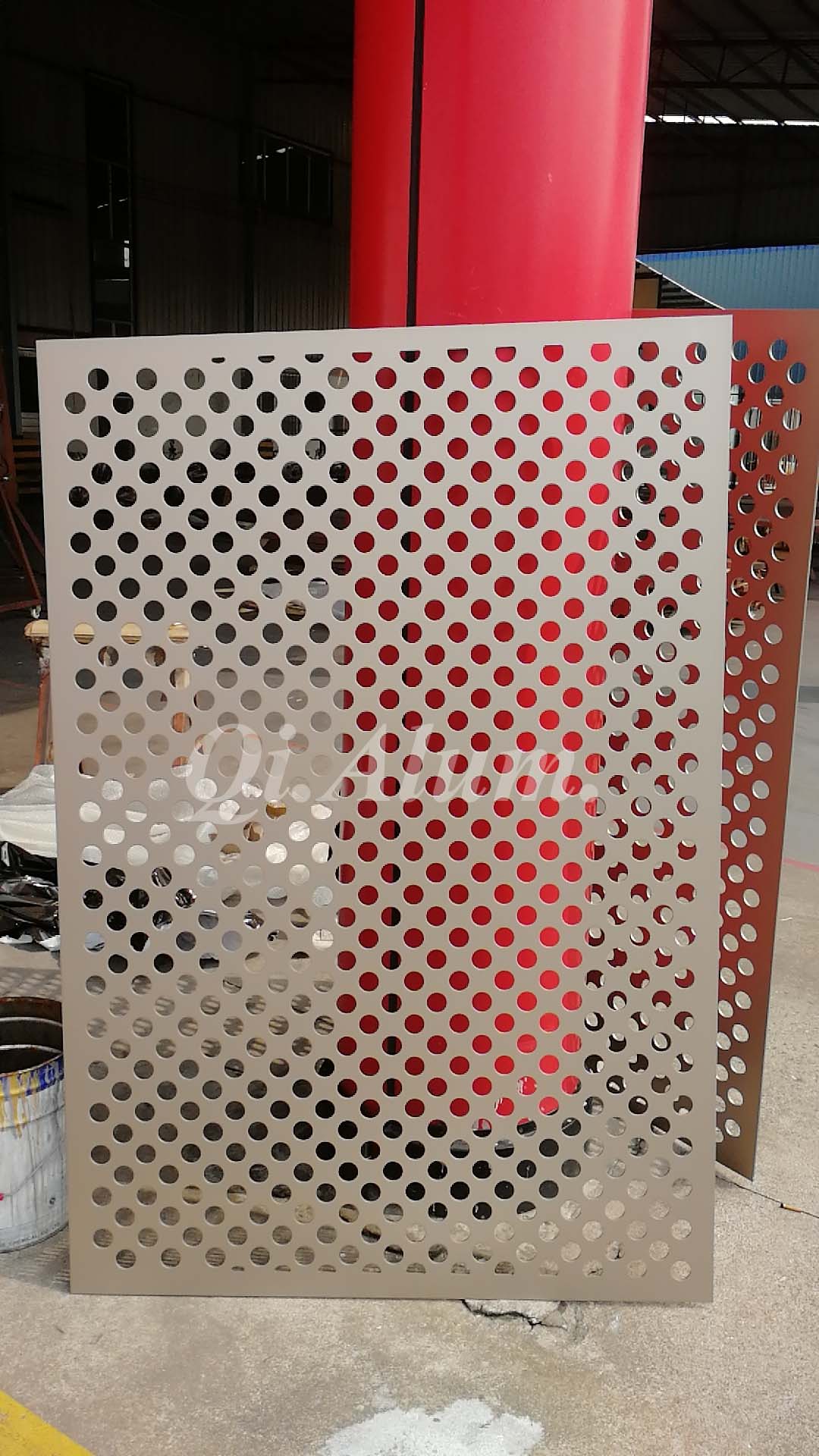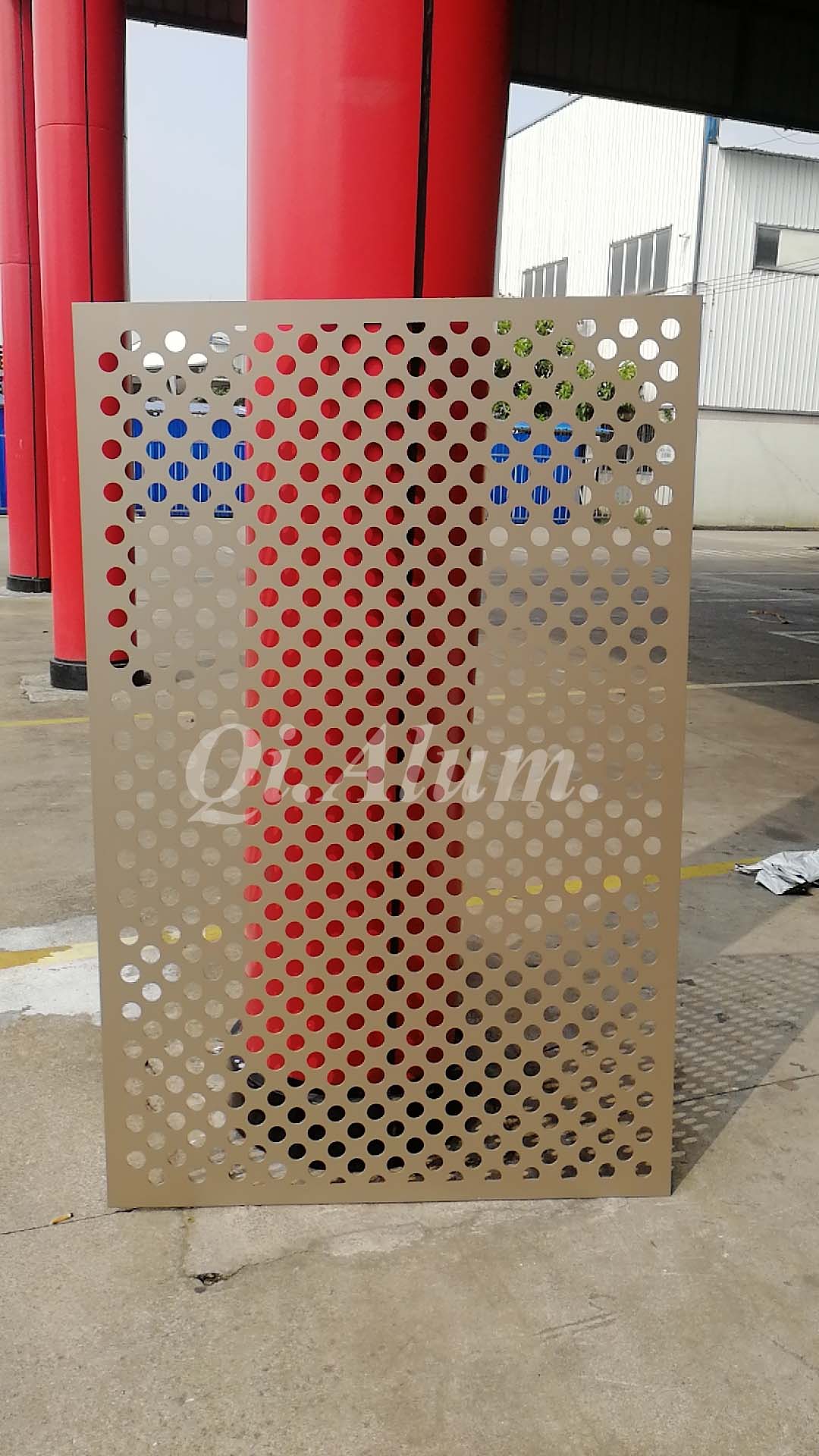 PVDF aluminum panel curtain wall system has smooth surface, good wind pressure resistance and a variety of color coatings to choose from, so that the building conveys a distinctive modern feeling. System design is reasonable, can meet a variety of functional needs, widely used in a variety of commercial or industrial building wall decoration. We can receive custom orders, to map customization, short delivery time, excellent quality. Common specifications: 600*600mm, 600*1200mm building curtain wall aluminum panel material and structure aluminum sheet from the specification is divided into two kinds: the thickness of the following 1.2mm aluminum panel called aluminum buckle panel (also called aluminum square sheet), the thickness of more than 1.5mm aluminum vpanel called aluminum sheet. Aluminum panel curtain wall adopts high quality and high strength aluminum alloy panel, its common thickness is 1.5, 2.0, 2.5, 3.0MM, model is 3003, state is H24. Its structure is mainly composed of panels, stiffeners and corner codes.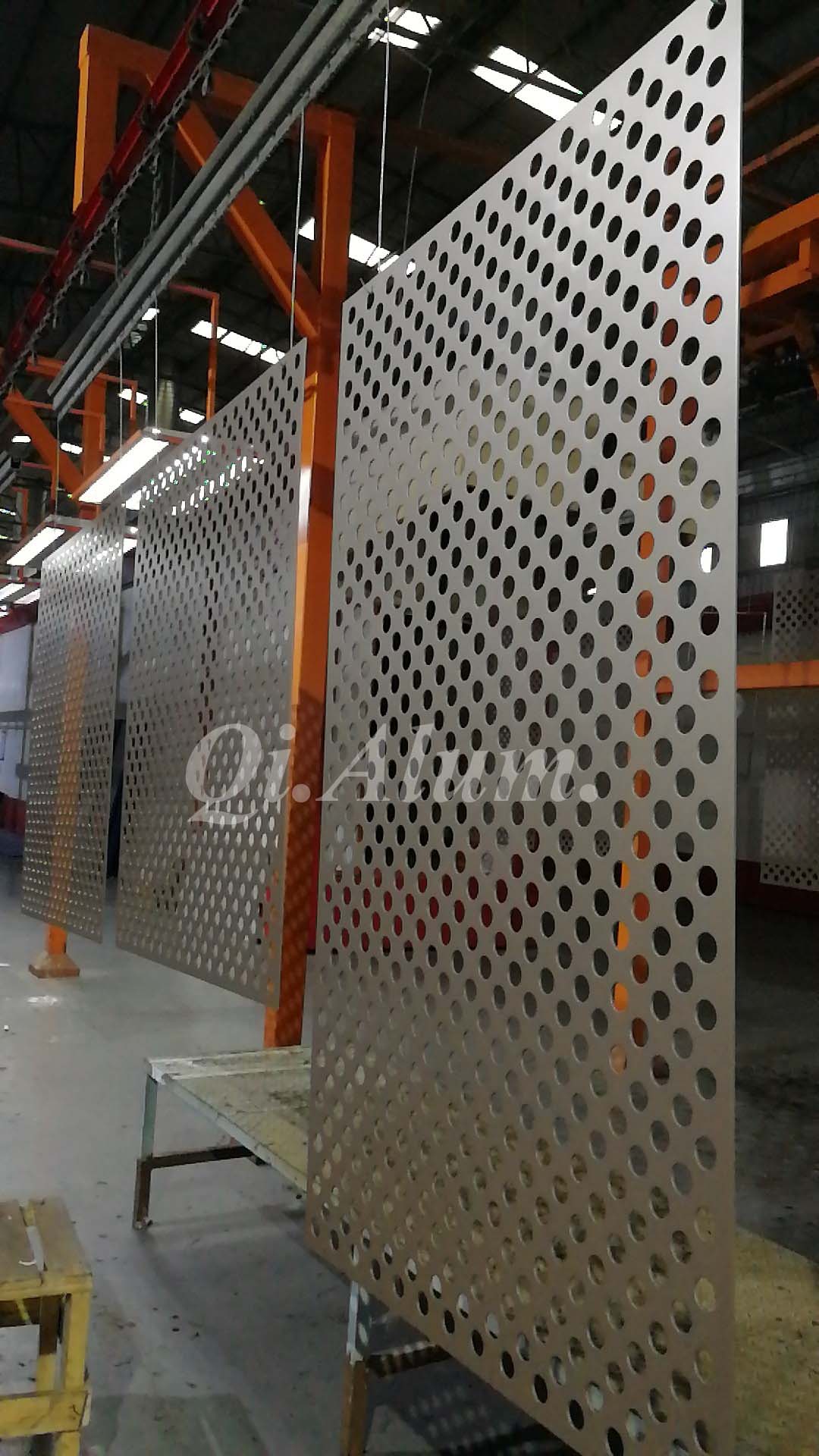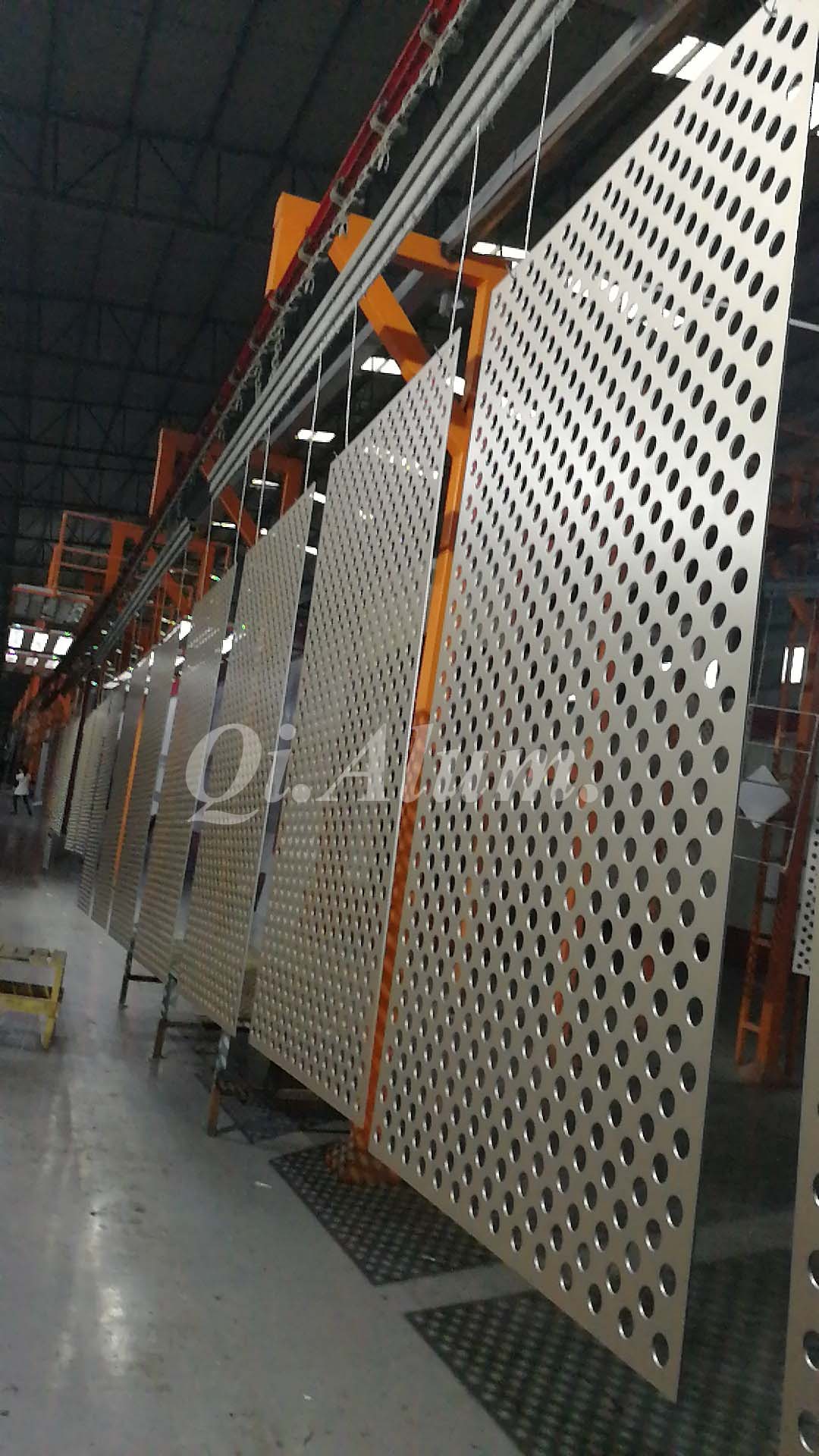 The characteristics of external fluorocarbon aluminum panel are curtain wall light weight, high strength, waterproof, antifouling, fire prevention, corrosion resistance, good processing performance, low maintenance costs, long service life. Aluminum panel curtain wall can be customized into solitary and special-shaped, the surface can be sprayed into a variety of colors, in the wall to form a variety of beautiful patterns, and can be combined with the glass curtain wall into a different appearance form, and wood grain aluminum panel makes the building appears more noble and elegant style. The exterior wall aluminum panel surface is generally treated with fluorocarbon spraying after being indoctrinated. Polyvinylidene fluoride resin for fluorocarbon coatings and varnishes. Generally divided into two coated, three coated or four coated. Fluorocarbon coating has excellent corrosion resistance and weather resistance, acid rain resistance, salt fog and various air pollutants, excellent heat and cold resistance, can resist strong ultraviolet radiation, long-term maintenance of non-fading, non-powder, long service life.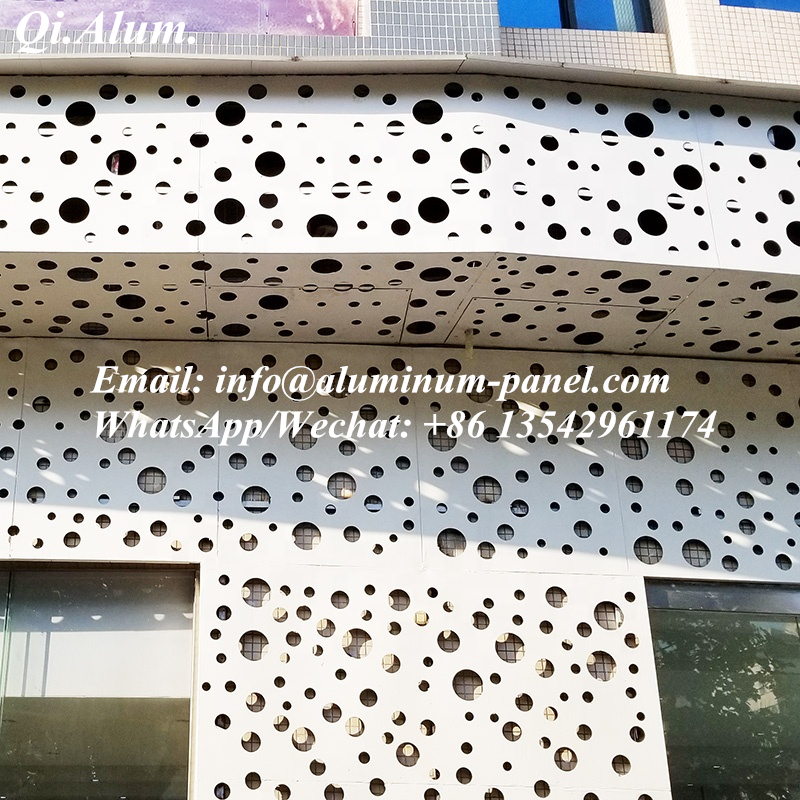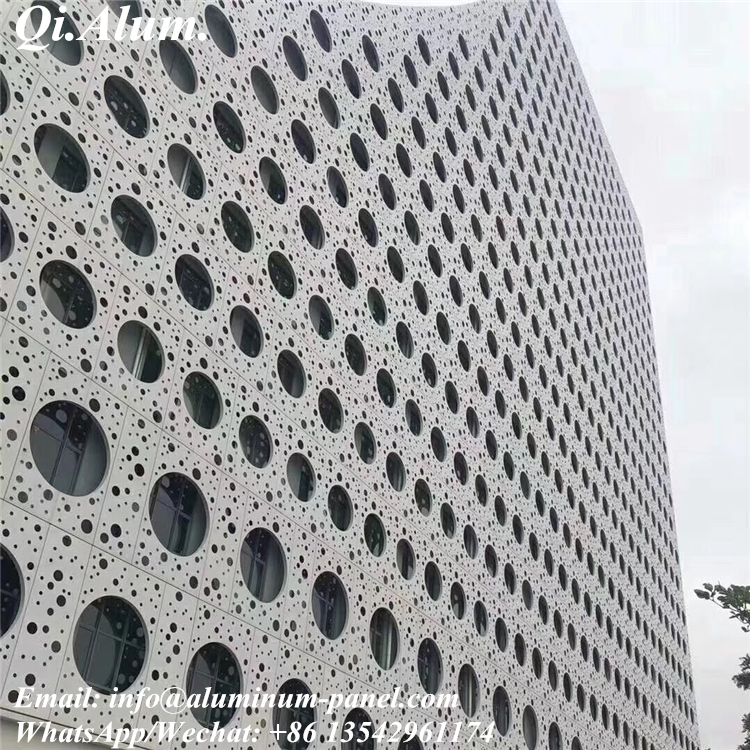 PVDF aluminum panel unique characteristics.
One, Energy conservation
PVDF aluminum panel can well meet the energy saving needs of the northwest region. Using PVDF aluminum panel as exterior wall can significantly improve the living environment and indoor thermal stability, reduce the use of heat energy, to achieve the effect of energy saving.
Two, adjust the indoor temperature
When PVDF aluminum panel is used as exterior wall decoration, it can well adjust the level of indoor temperature. PVDF aluminum panel exterior wall can largely reduce solar radiation and external heat transfer, so that indoor heat loss is slowed down, and play a role in regulating indoor temperature regulation.
Three, improve the wall environment
PVDF aluminum panel can prevent wall insulation materials from being damp, but also make the temperature of the whole wall body increase, humidity reduction, prevent condensation and other phenomena, and achieve the function of improving the wall environment.
Four, safety
The use of PVDF aluminum panel as exterior wall decoration, in the high-rise buildings can better reflect the characteristics of safety and reliability.PVDF aluminum panel is the installation of keel connection, to solve the previous external wall prone to hollow drum, cracking and other problems.
Five, beautiful
PVDF aluminum panel surface can not only spray into a variety of colors, in the wall to form a variety of beautiful patterns, and can be combined with the glass curtain wall into a different appearance, so that the building has a variety of different styles.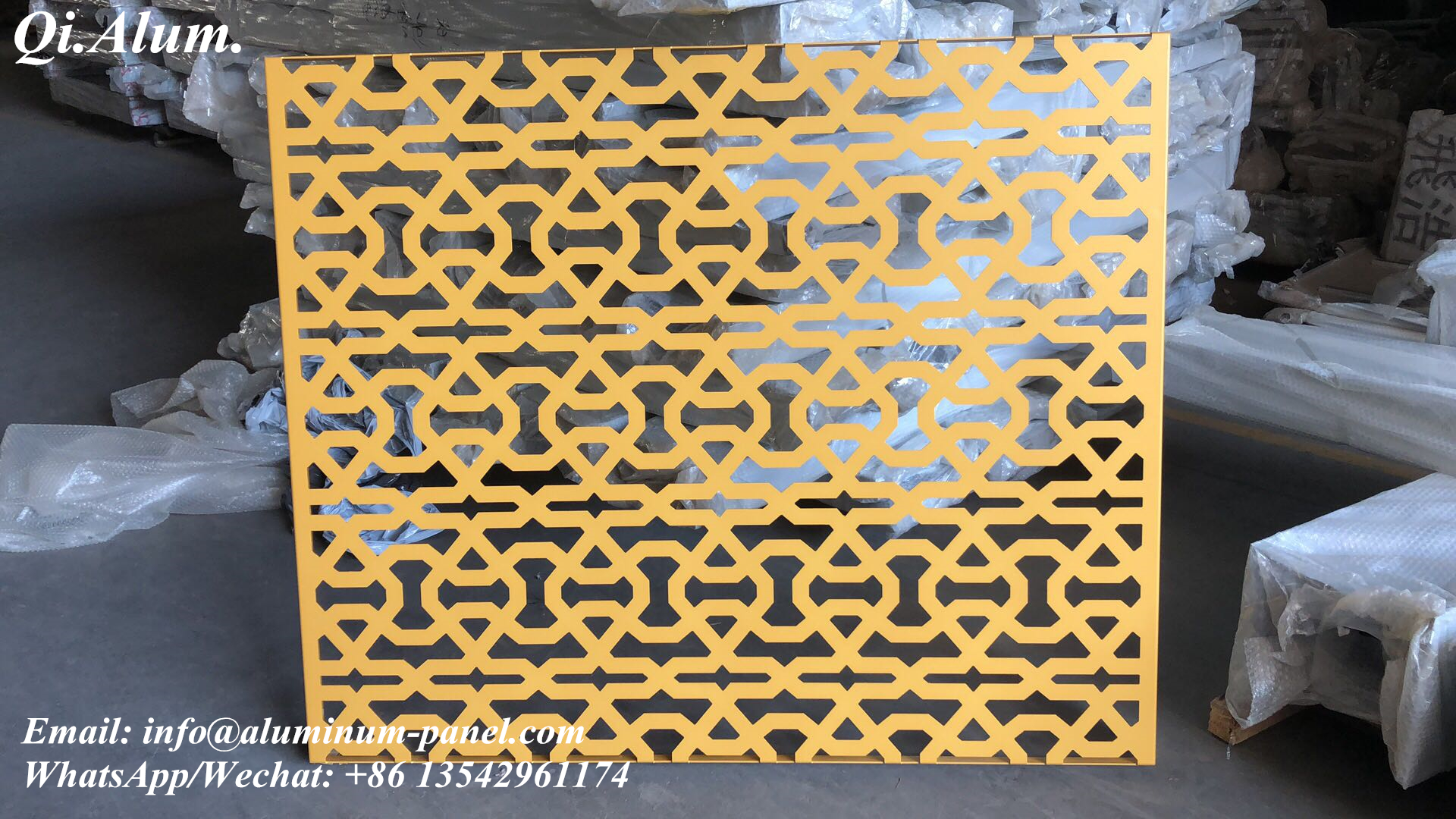 About us
Foshan Qi Aluminum Decorative Materials Co.,Ltd, more than 12 years experience ,We are manufacturer of fabricating aluminum perforated sheets , aluminum solid panels, aluminum screen,aluminum facade decorative sheets, aluminum expanded mesh, aluminum ceiling with good quality and fast delivery for more than 10 years to export countries. Our factory production line includes 14 CNC carving/cutting machines, 8 mould punching machines with 120 sets moulds for hole punching, 9 CNC bending machines as well as accessories assembly machines. We have two coating lines with powder coating, and PVDF coating with working 24*7 hours, cooperating with Jotun, PPG, Akzon brands . We had done projects in Dubai, Qatar, Bahrain, Kuwait, Tajikistan, Tanzania, Maritius, Singapore, Malaysia, Australia, Canada, America and so on. Our monthly supplying is about 80000 sqms for inside and outside market. Our projects covers five star hotel, high end villas, school, campus, metro station, airport, office building, shopping mall and some other goverment projects. We can provide design ,fabrication and installation one stop service for your projects. High precision, quality guarantee, affordable price , globla delivery and considerate service is our basis. We accept OEM/ODM business. We are the experienced specialist on facade solution decoration!!!