Description
2020 Hot Sale Architectural Decorative Hole Shapes Perforated Wire Mesh Sheets
Materials
aluminum, carbon steel, stainless steel, nickel, titanium, brass and other metal materials.
Thickness
0.04mm to 8mm
Opening
0.8mm×1mm to 400mm×150mm

Surface treatment

1. PVC coated;

2. Polyester Powder coated;

3. Anodized;

4. Paint;

5. Fluorocarbon spraying;

6. Polishing;

Application
1.Fence,panels & grids;

2.Walkways;

3.Protections & barres;

4.Industrial & fire stairs;

5.Metallic walls;

6.Metallic ceilings;

7.Grating & platforms;

8.Metallic furniture;

9.Balustrades;

10.Containers & fixtures;

11.Facade screening;
FEATURES:
Expanded Aluminum Plate is both versatile and economical. It is more cost-effective compared with perforated metals. Because it is slit and expanded, it creates less materials waste during manufacturing, thus you don't have to pay for the material loss in the production process.
Aluminum expanded sheet has excellent strength to weight ratio and a number of patterns to choose from.
Expanded Sheet allows easy passages of sound, air and light, with open areas ranging from 36% to 70%. It is available in most material types and finishes, and highly versatile for producing different shapes, cutting, tube and roll forming.
FEATURE
The multi-layer sand control filter sleeve has high-efficiency sand control performance, which can better block the sand particles in the formation and meet the sand control needs in the underground.
Uniform filter pores, high permeability, and anti-blocking performance.
Large filtering area, small flow resistance, and high oil output rate
The excellent corrosion resistance of stainless steel, resistance to acid, alkali and salt corrosion, can meet the special requirements of oil wells, and the gap will not gradually increase due to corrosion.
The multi-layer structure is welded together, which can stabilize the filter pores and has a strong resistance to deformation.
The outer protective sleeve can also be spiral welded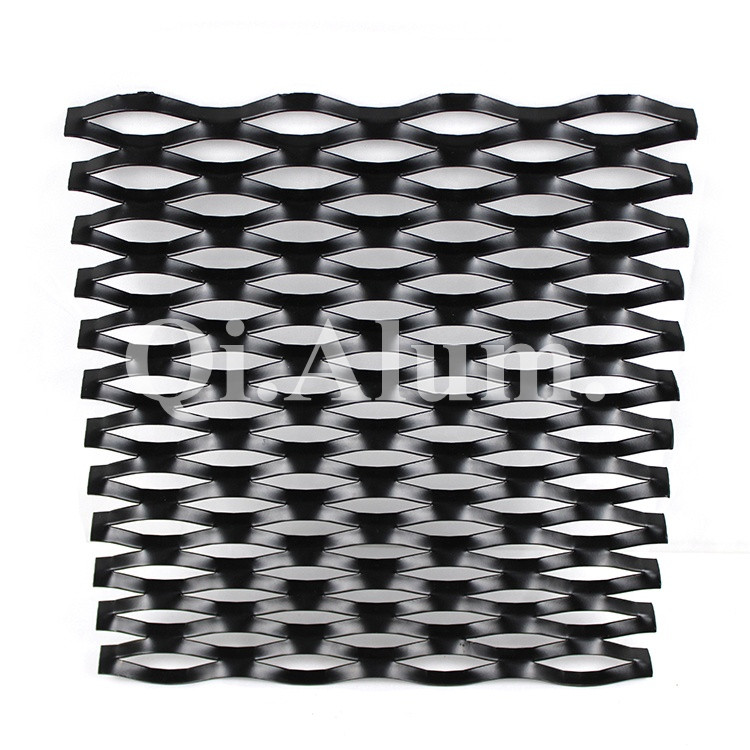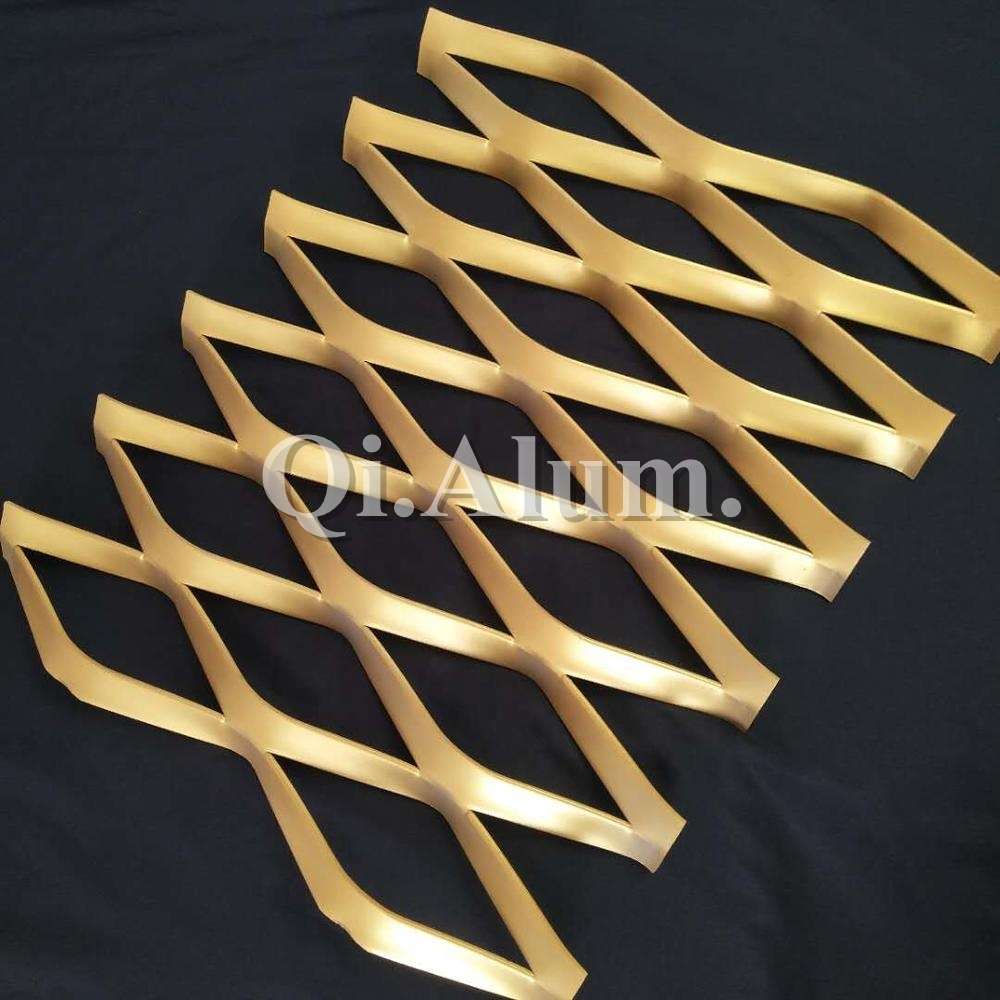 Aluminum expanded mesh can be used for:
building ceiling, wall board sound absorption material;
for building stairs, balcony, environmental protection table and chair of the exquisite decorative hole plate,
for food machinery, drying sieve plate, decoration ceiling, instrument case, sound horn, filter sound absorption and other equipment.
It can also be used for platforms, pedals, filters and various filter valves

| | |
| --- | --- |
| Product name | Aluminum expanded/deployed mesh |
| Material | Aluminum Alloy AA1100, 3003, 3014, 5005, 5015, 6063 etc. |
| Size | within 1400*4000MM,customized |
| LWD*SWD | Customized |
| Strand | 1mm,1.5mm,2mm2.5mm,3mm,3.5mm,4mm,4.5mm,5mm,5.5mm,6mm etc. |
| Thickness | 1mm,2mm,3mm,4mm,etc |
| surface treatment | mill finish,Anodized, powder coated or PVDF spraying,PPG |
| Color | any color of RAL and Pantone color chart,customized |
| Opening | 5%~50% |
| Main Production Process | Cutting,CNC Punching,Laser Cutting,Bending, Welding,Painting. |

Factory equipment:

Certifications

Packaging Details:

1. Custom plywood crate or box for heavy sheet metal parts.

2. Heavy duty carton for small and lighter metal parts.

3. Bubble bag and PE protective film for inner protection to avoid scratches.

4. Plywood pallet is available when sheet metal products are in large amount.

5. Shipping marks as per request.

About us

Foshan Qi Aluminum Decorative Materials Co.,Ltd, more than 12 years experience ,We are manufacturer of fabricating aluminum perforated sheets , aluminum solid panels, aluminum screen,aluminum facade decorative sheets, aluminum expanded mesh, aluminum ceiling with good quality and fast delivery for more than 10 years to export countries. Our factory production line includes 14 CNC carving/cutting machines, 8 mould punching machines with 120 sets moulds for hole punching, 9 CNC bending machines as well as accessories assembly machines. We have two coating lines with powder coating, and PVDF coating with working 24*7 hours, cooperating with Jotun, PPG, Akzon brands . We had done projects in Dubai, Qatar, Bahrain, Kuwait, Tajikistan, Tanzania, Maritius, Singapore, Malaysia, Australia, Canada, America and so on. Our monthly supplying is about 80000 sqms for inside and outside market. Our projects covers five star hotel, high end villas, school, campus, metro station, airport, office building, shopping mall and some other goverment projects. We can provide design ,fabrication and installation one stop service for your projects. High precision, quality guarantee, affordable price , globla delivery and considerate service is our basis. We accept OEM/ODM business. We are the experienced specialist on facade solution decoration!!!