Description
perforated metal sheet .
1.Material: Low carbon steel plate, stainless steel plate, copper plate, nickel plate. stainless steel plate, aluminum, hot and cold steel, copper and fiber, plastic sheeting and other non-metallic plate.
2.Hole size: 0.8–18mm
3.Thichness: 0.2-15mm
4.Weaving: Stamping made
5.Features: Flat surface, smooth, beautiful, strong and durable, wide application.
6.Specifications: Coil sheet 1X20m, flat sheet 1X2m.
7.Hole Patterns including: Round; Rectangular hole; Square; Triangle; Diamond; Hexagonal; Cross; Slotted; and other patterns according to your drawings or application requirement.
Processing: Punching
8.Uses: Mining, medicine, grain selection, indoor sound insulation, silencers, ventilation, grain storage and machine protection
Feature&Benefit 
A. It is gradually developing into the powerful product in building decoration industry, and is widely used interior and exterior curtain wall.
B. It can be100% recycled, environmentally, unlike glass, stone, ceramics, aluminum composite panel and other decorative materials. Aluminum panel is wise choice of ornament materials.
C. Light weight, high strength, Simple structure, China hot sale.
D. Resist shock, water proof,fireproof, anti-dirt and anti-corrosion. And with best performance in resisting cold and hot.
E. Flexible processing,the size of plate is customized, it can be easily processed into corner, arch and even double curved sides.
1, aluminum panel light weight, good rigidity, high strength (3.0mm thick aluminum panel per square plate weight 8kg, tensile strength 100-280N /mm2), no deformation.
2. Aluminum panel has good durability and corrosion resistance. PVDF fluorocarbon paint, available for 30 years.
3, aluminum panel technology is good. The aluminum panel can be machined into various complex geometric shapes such as plane, arc and sphere.
4. Aluminum panel coating is uniform and colorful. Advanced electrostatic spraying technology makes the adhesion between paint and aluminum panel uniform, diverse colors, large choice space.
5, aluminum panel is not easy to stain, easy to clean and maintain. Fluorine coating film non-adhesion, so that the surface is difficult to adhere to pollutants, more good cleaning. Really good look practical.
6, aluminum panel installation and construction is convenient and fast. Aluminum panel in the factory molding, construction site does not need to cut, fixed on the skeleton.
7, aluminum panel can be recycled, environmental protection. Aluminum panel can be 100% recycled, different from glass, stone, ceramic, aluminum plate and other decorative materials, recycling residual value is high
Protective film
A layer of PE plastic tape, to protect the panel surface from scratch or damage. The thickness and sticky standard are various upon different supplier.
Color coating
By function: PE & PVDF. PE is used for interior, with 10 year life-long expectancy; PVDF coating, with resistance on UV, acid and alkali, is more suitable for exterior usage, with 15-20 year guarantee.
By color/pattern: solid color, metallic color, brushed finish, mirror finish, marble pattern, wooden pattern.
Aluminum skin
AA1100 and AA3003 are standard, other series are optional upon specified order.
Polyethylene core
By color: White PE core and Black PE core;
By function: Normal PE core, unbreakable PE core and fire-rated PE core.
Bottom coating
Mill finish or color service coating
Packing
1. Custom plywood crate or box for heavy sheet   metal parts.
2. Heavy duty carton for small and lighter metal parts.
3. Bubble bag or protective film for inner protection to avoid   scratches.
4. Plywood pallet is available when sheet metal products are in large   amount.
5. Shipping marks as per request.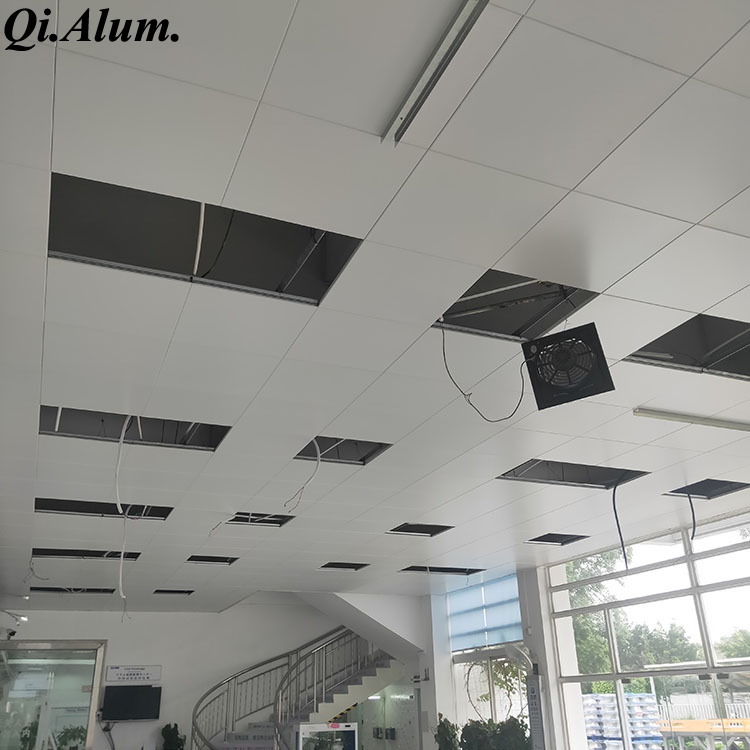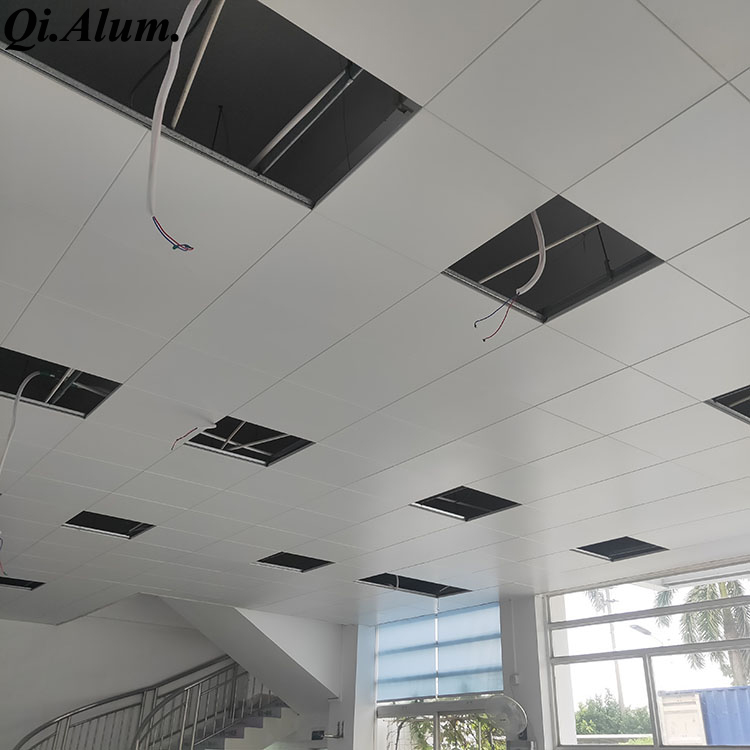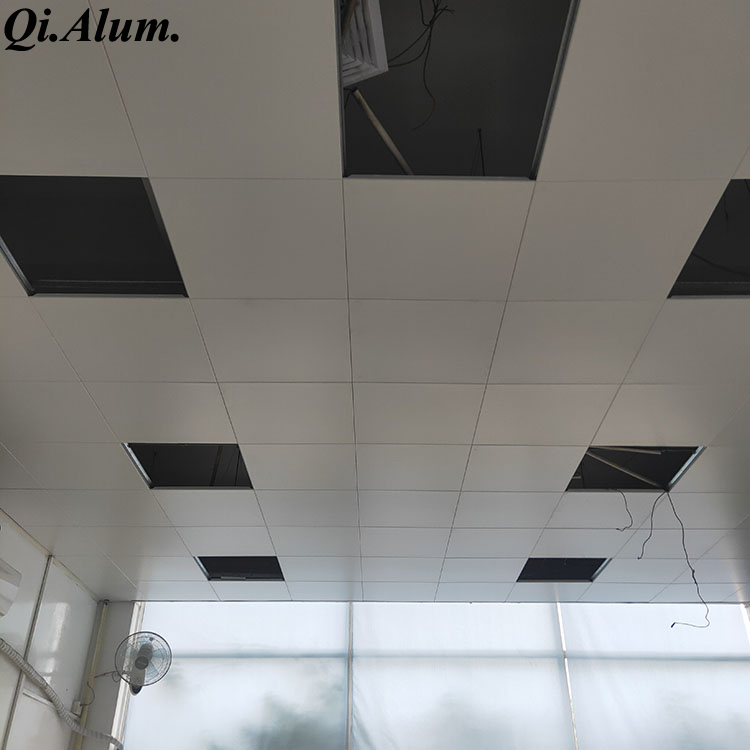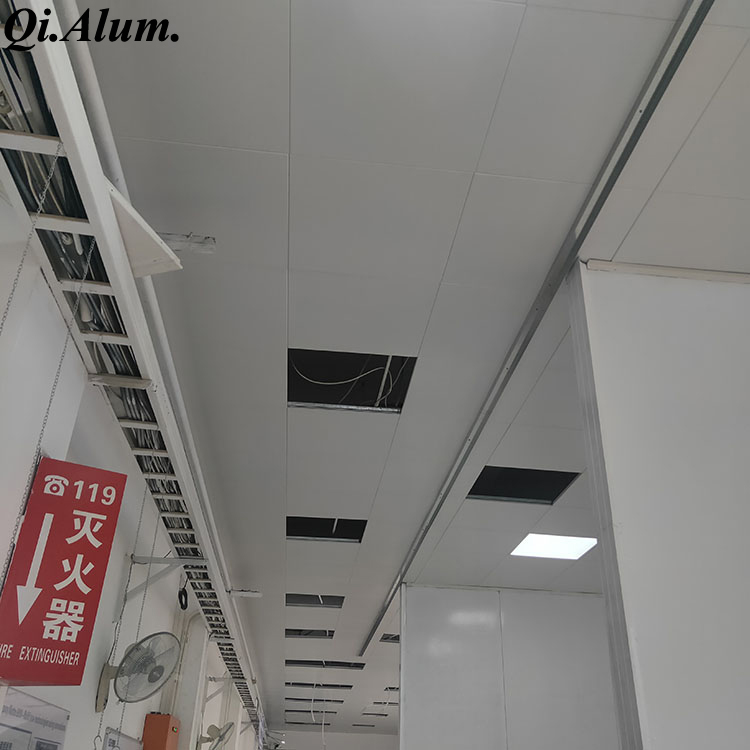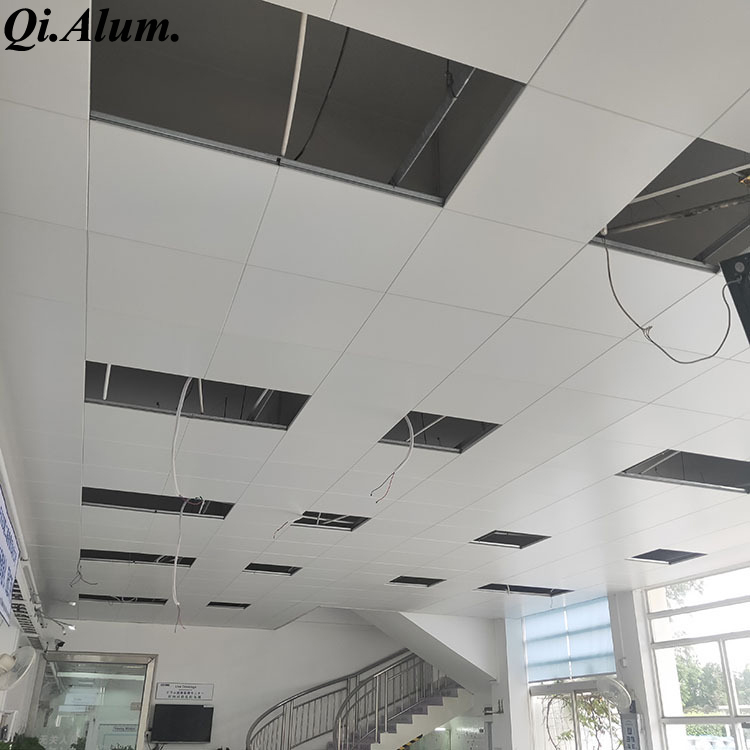 FAQs
Q:Do you provide sample?
A:Sample service is available. please contact us send your address tell our  sale which sample you need. we will arrange sample within 5days.
Q:Are you manufacture or simply trading company?
A:We are the manufacture and trader,we can supply not only aluminum ceiling tiles, if you have any requirment, please contact our sale. By the way,welcome to visit our factory,we are located in Guangzhou Panyu.
Q:How to place order?
A:Chat now or send enquiry. Our sale will reply you and send quotation within 12 hours. After PO, production time will be around 12days.
Q:How did you test the product before they are packed?
A:We have the strict QC procedure, each product will be tested by three times with professional machine before packing.
Q:what is the delivery time?
A:Clip in ceiling,baffle ceiling,:15-20 days. Curtain wall panel and laser cutting panel production time is depend on qty and design. Should be after receiving deposit.
Q:What about the payment terms?
A:30% TT advanced payment, balance need to pay before shipment.
Other terms, payment terms also can be negotiated.
About us
Foshan Qi Aluminum Decorative Materials Co.,Ltd, more than 12 years experience ,We are manufacturer of fabricating aluminum perforated sheets , aluminum solid panels, aluminum screen,aluminum facade decorative sheets, aluminum expanded mesh, aluminum ceiling with good quality and fast delivery for more than 10 years to export countries. Our factory production line includes 14 CNC carving/cutting machines, 8 mould punching machines with 120 sets moulds for hole punching, 9 CNC bending machines as well as accessories assembly machines. We have two coating lines with powder coating, and PVDF coating with working 24*7 hours, cooperating with Jotun, PPG, Akzon brands . We had done projects in Dubai, Qatar, Bahrain, Kuwait, Tajikistan, Tanzania, Maritius, Singapore, Malaysia, Australia, Canada, America and so on. Our monthly supplying is about 80000 sqms for inside and outside market. Our projects covers five star hotel, high end villas, school, campus, metro station, airport, office building, shopping mall and some other goverment projects. We can provide design ,fabrication and installation one stop service for your projects. High precision, quality guarantee, affordable price , globla delivery and considerate service is our basis. We accept OEM/ODM business. We are the experienced specialist on facade solution decoration!!!