Description
| | |
| --- | --- |
| Width(mm) | 20, 25, 30, 40, 50, 60, 70, 80, 90, 100mm or customized |
| Height(mm) | 30, 40, 50, 60, 70, 80, 90, 100, 110, 120, 130, 140, 150, 160, 170, 180, 190, 200mm… |
| Thickness(mm) | 0.5-1.5mm |
| Max Length(mm) | 6000mm/Pc |
| Perforated Hole | Diameter 1.8/2.3/2.5mm or customized |
| Color | White Black Grey.. And Roll coated wooden color |
| Others | Other sizes can be customized |
| Materials | Aluminum, Aluminum alloy 1100/3003 |
| Surface Treatment | |
| Certifications |  ISO9001 |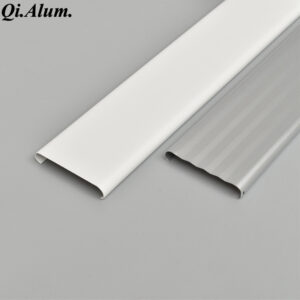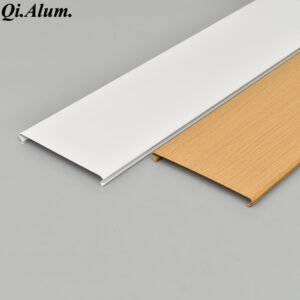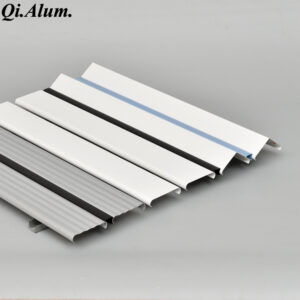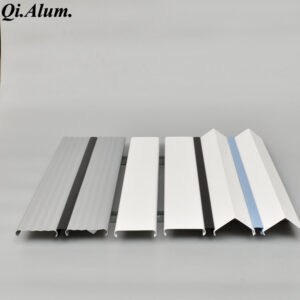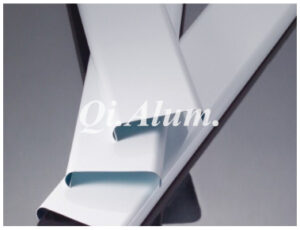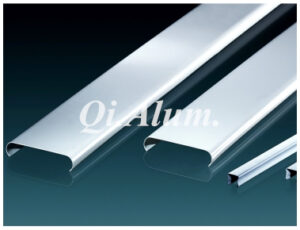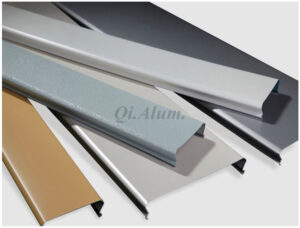 Metal ceiling; 1. Smooth and perfect roller coating board is a composite material made of high quality aluminum magnesium alloy board as substrate, after strict degreasing and chemical treatment on the surface of aluminum plate, roller coated with imported PVDF fluorocarbon coating and dried and cured. 2, roller coating board to high-speed development mainly lies in that it will be the traditional spraying coating into continuous coating, roller coating treatment, drying and curing, the difference between ordinary dip coating chemical treatment. Not only effectively control the coating quality, but also eliminate the coating easy to produce edge corner defects. At the same time, it can also be operated with unknown treatment liquid to reduce the pollution to the environment and meet the environmental protection requirements of developed countries. 3, roll painted ceiling bright color, not only has the strength and excellent flexibility of aluminum plate, but also has good corrosion resistance and weather resistance of paint film. It can not only bear deformation under high wind pressure, but also can cut, strip, stamping, slotting, drilling, bending and compression molding, can completely replace similar imported products. Therefore, it is widely used in the construction industry: industrial plants, office buildings, shopping malls, stations, subways, airport buildings, modern large hangars, large stadiums, large clubs and so on. With the development of The Times, the field of home decoration has also entered the mainstream of the decoration industry.
Aluminum tube can be divided into aluminum panel aluminum tube and profile aluminum tube.
Aluminum panel aluminum square through continuous rolling or cold bending molding, installation structure for special keel buckle type structure, installation method similar to ordinary strip gusset panel, simple and convenient, suitable for interior decoration (keel can be designed windproof card code).
Profile aluminum tube features aluminum ventilation extrusion molding, product hardness, straightness is far more than other products, the installation structure for the use of the upper main bone, with screws and specially built components and profile hammer connection, wind resistance is strong, suitable for outdoor decoration (keel spacing can be arbitrarily adjusted). Special aluminum tube can be stretched and bent into arc, the emergence of arc aluminum tube provides designers with a broader conception space to create more unique and beautiful works.
The installation of different aluminum tube is able to choose different heights and spacing, can be a high and a low, a sparse and dense, with reasonable color collocation, so that the design of protean, can design a different decorative effect. At the same time, because the aluminum ftube is permeable, the lamps, air conditioning system, fire equipment can be placed in the ceiling, in order to achieve the overall consistent perfect visual effect.
Aluminum tube installation is simple, maintenance is also very convenient, because each aluminum tube is separate, can be installed and disassembled at will, without special tools, convenient maintenance and maintenance.
About us
Foshan Qi Aluminum Decorative Materials Co.,Ltd, more than 12 years experience ,We are manufacturer of fabricating aluminum perforated sheets , aluminum solid panels, aluminum screen,aluminum facade decorative sheets, aluminum expanded mesh, aluminum ceiling with good quality and fast delivery for more than 10 years to export countries. Our factory production line includes 14 CNC carving/cutting machines, 8 mould punching machines with 120 sets moulds for hole punching, 9 CNC bending machines as well as accessories assembly machines. We have two coating lines with powder coating, and PVDF coating with working 24*7 hours, cooperating with Jotun, PPG, Akzon brands . We had done projects in Dubai, Qatar, Bahrain, Kuwait, Tajikistan, Tanzania, Maritius, Singapore, Malaysia, Australia, Canada, America and so on. Our monthly supplying is about 80000 sqms for inside and outside market. Our projects covers five star hotel, high end villas, school, campus, metro station, airport, office building, shopping mall and some other goverment projects. We can provide design ,fabrication and installation one stop service for your projects. High precision, quality guarantee, affordable price , globla delivery and considerate service is our basis. We accept OEM/ODM business. We are the experienced specialist on facade solution decoration!!!