Description
2mm thickness Aluminum Plain Weave Style Expanded Metal Mesh
Size: 1220*2440mm, 1500*6000mm, 1000*2000mm, 1500*3000mm or customized
Surface treatment: Powder coating black color
Package: wooden case , wooden pallet.
Usage: building/house interior ande exterior decroration, ceiling decoration ,window protective, metal wall decoration
Technical support please welcome mail us your drawings, we will offer you the proffessional solution.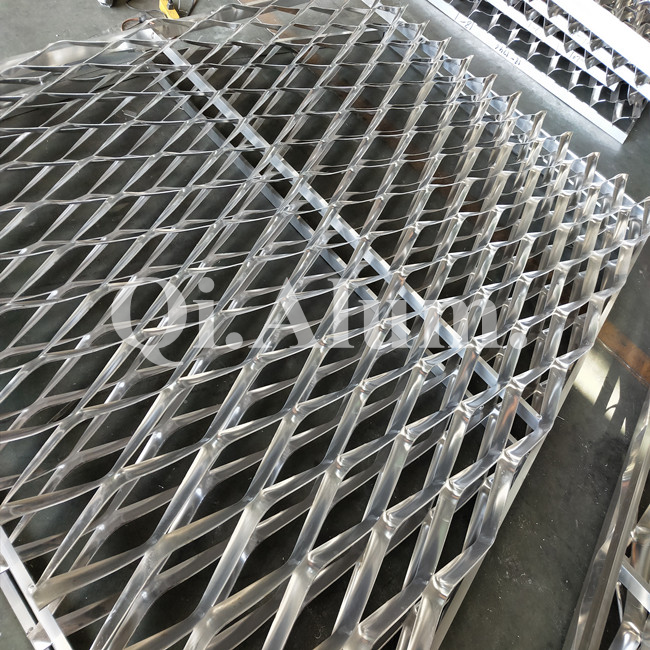 Product Application 
    The versatility of expanded metal makes it have coutless applications in architectural ,commercial ,industrial ,building and other industries , ideal decorative applications includes :
Aluminum Diamond Decorative Mesh Expanded Metal Building Exterior Facade Panels For Architectural Buildings
| | | | |
| --- | --- | --- | --- |
|  Cladding |  Balustrades |  Room Decoration |  Furniture |
|  Fencing |  Interior Partitions |  Infill Panels |  Machine Guards |
| Sun screening |  Exhibition stand | Air intake screens |  Ceilings |
| Transportation shelters |  Speaker Grilles | | |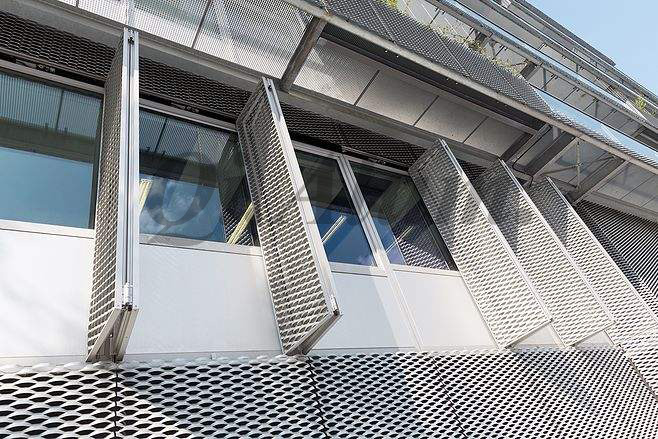 Aluminum Expanded Metal Mesh is also called tensile network. It is made by cutting and expanding the original steel panel with new technology, and its net body is more portable and strong bearing capacity. The common aluminum panel mesh is diamond hole, other holes and hexagonal, round hole, triangle, fish scale hole, etc..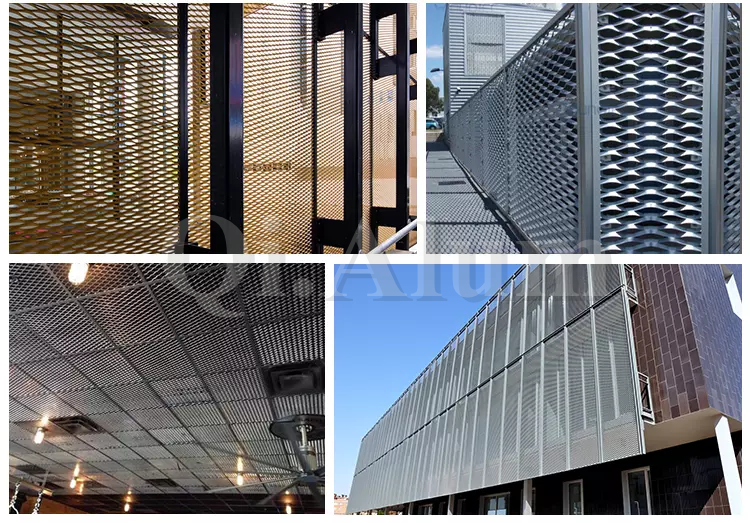 Compared with traditional decorative materials, decorative net products have strong sound-absorbing performance and decorative effect, with non-combustible, high strength, easy maintenance characteristics, and can play a good protective role on building structures. Installation is simple, fast, and the added value is higher than that of traditional materials.
Simple structure: this structure is one-way parallel keel hook type structure (refer to "Z" series for details), the structure has special windproof function; Connection mode of grid ceiling: can choose the close connection mode and open connection mode; Transparent grid ceiling, simple and beautiful, overall, has a good sound-absorbing decoration function, for the occasion of strong sound-absorbing effect, such as concert hall, bar, song and dance hall, can be built in the grid ceiling surface absorbent moisturizing cotton, more can create sound-absorbing effect.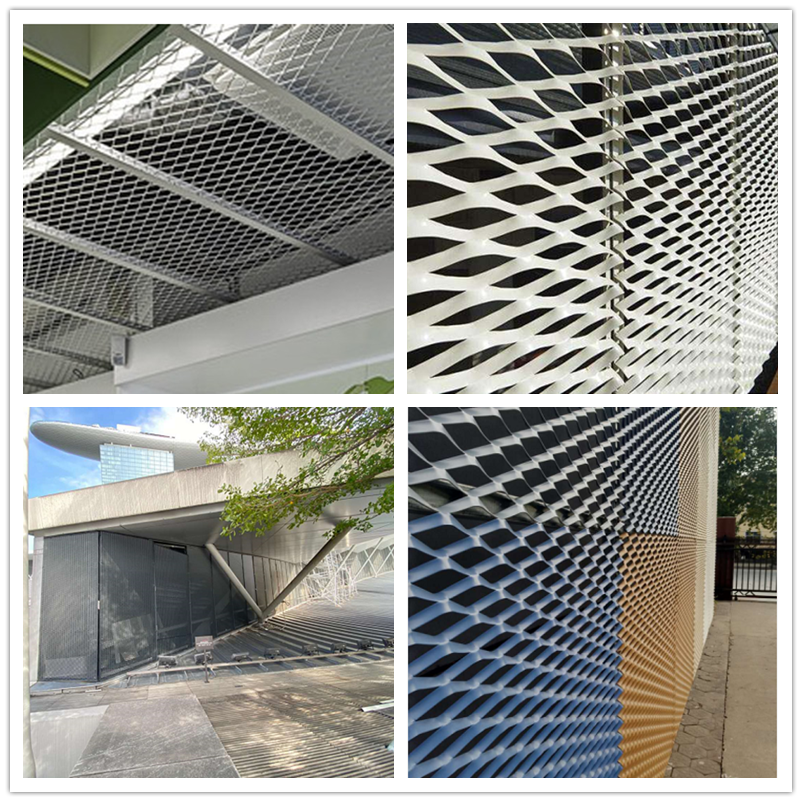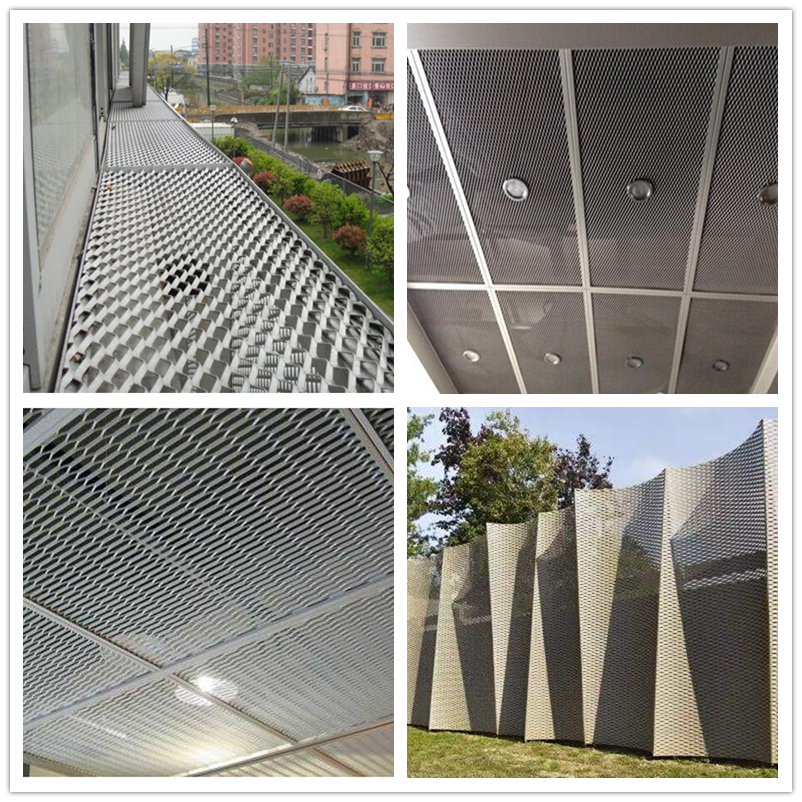 The dragnet aluminum panel system has the characteristics of light weight, good rigidity, high strength, good weather resistance and good sex of the system, diverse colors, large selection space, not easy to stain, easy to clean and maintain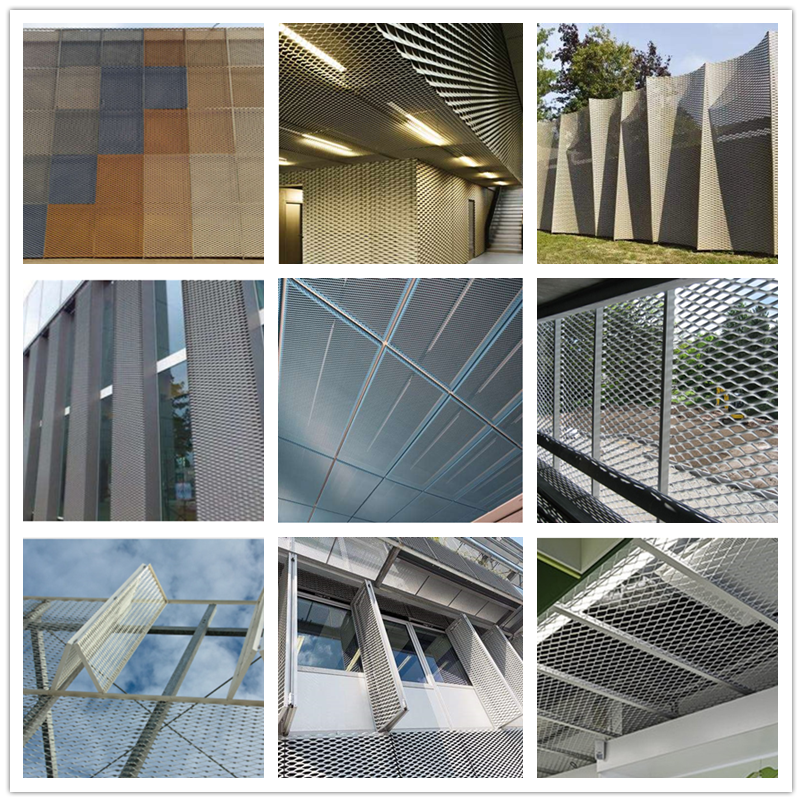 About us
Foshan Qi Aluminum Decorative Materials Co.,Ltd, more than 12 years experience ,We are manufacturer of fabricating aluminum perforated sheets , aluminum solid panels, aluminum screen,aluminum facade decorative sheets, aluminum expanded mesh, aluminum ceiling with good quality and fast delivery for more than 10 years to export countries. Our factory production line includes 14 CNC carving/cutting machines, 8 mould punching machines with 120 sets moulds for hole punching, 9 CNC bending machines as well as accessories assembly machines. We have two coating lines with powder coating, and PVDF coating with working 24*7 hours, cooperating with Jotun, PPG, Akzon brands . We had done projects in Dubai, Qatar, Bahrain, Kuwait, Tajikistan, Tanzania, Maritius, Singapore, Malaysia, Australia, Canada, America and so on. Our monthly supplying is about 80000 sqms for inside and outside market. Our projects covers five star hotel, high end villas, school, campus, metro station, airport, office building, shopping mall and some other goverment projects. We can provide design ,fabrication and installation one stop service for your projects. High precision, quality guarantee, affordable price , globla delivery and considerate service is our basis. We accept OEM/ODM business. We are the experienced specialist on facade solution decoration!!!